We are

HERE!
Introducing the New Release –

Newired 22.0

– to YOU!
New and noteworthy
This latest release is a last addition to the Newired 22.0 Major Release. As we follow the Agile SW Delivery Methodology, we release New Features and Enhancement throughout the year in Minor releases, and the Major release is a summary of everything we released:
Newired Journeys 21.1


Control Journey Step Visibility by Form Values
Input Validation via Tips Auto-Show
New Refined User Experience for Newired Content Author
Newired Journeys 21.2


Media Storage
Curated Image Library
Media Placement

and now 22.0 brings:


Playbooks
User Experience Levels
Property Rule testing
Up to 10x faster algorithms
---
Playbooks
We were able to let users create many different product tours, tutorials, how-to journeys, ecc. 
But somehow it was not clear for the end-user: 
What are the top 5 journeys I should pass to be introduced with a specific topic? 
What is my progress over an onboarding package? 
What if I want to get to the advanced level, what is needed?
✸ Key benefit: Organize your product tours and multitude of tutorials/ journeys into definable categories so that you don't spend time looking for the right guideline/ journey for you. These are the new Playbooks!
For Content Authors, it is trivial to create Playbooks, just open the editor and trigger the Playbook Editor.
---
User Experience Levels
Not every user is the same, and different users have a different view regarding on screen guidance. Newbies like the fact that some journeys auto-play, while Experts hate such auto-played journeys, as their needs would not be the same as a beginner, for example.
✸ Key benefit: Based on your application experience you get your specific journeys/ playbooks automatically, you can now define and select your proper level of application maturity (beginner, intermediate, expert).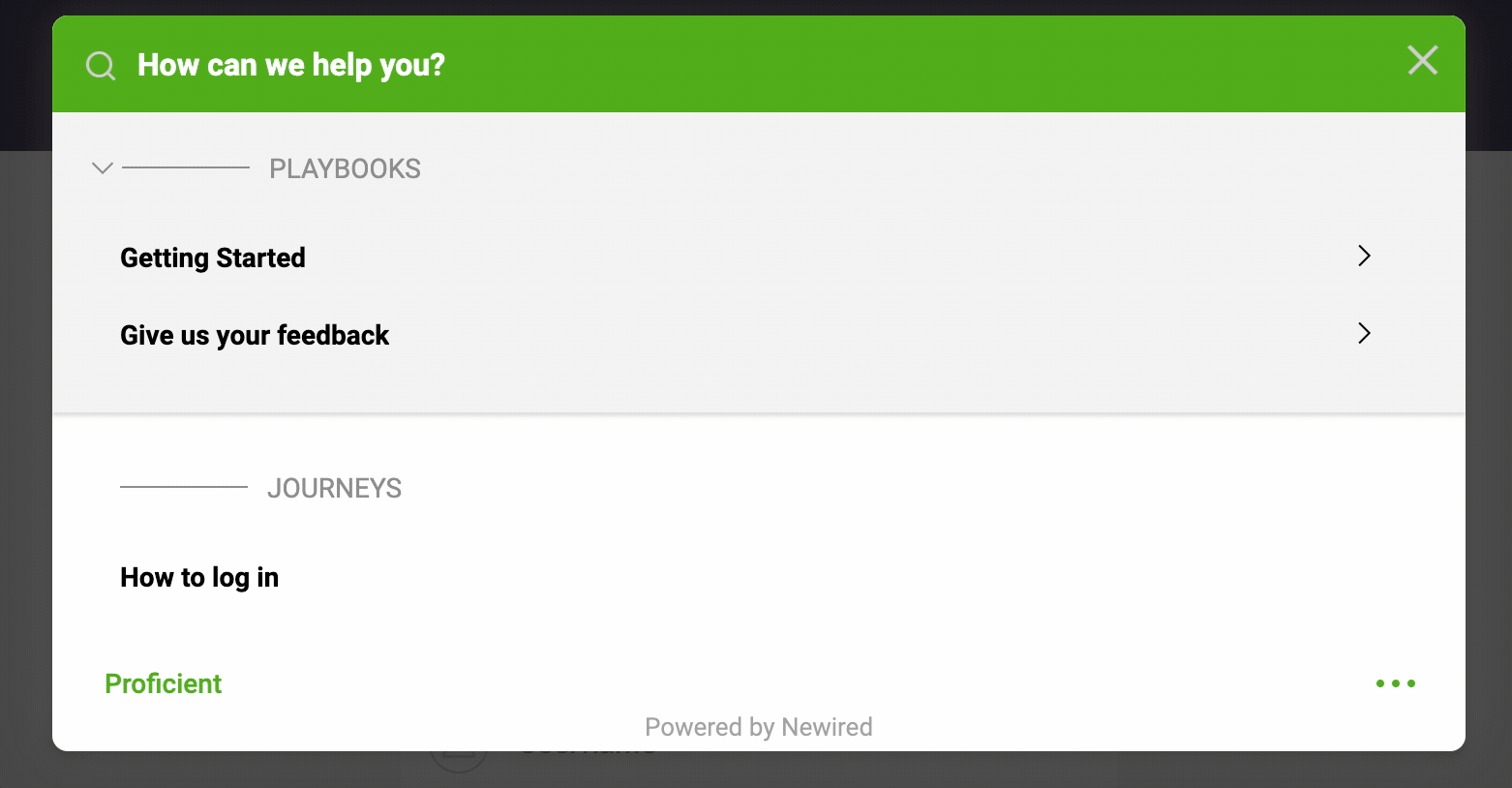 The content author has an option to provide a different content (visibility rules) or different dynamics (journeys/tips do not auto-show/popup) for different maturity levels.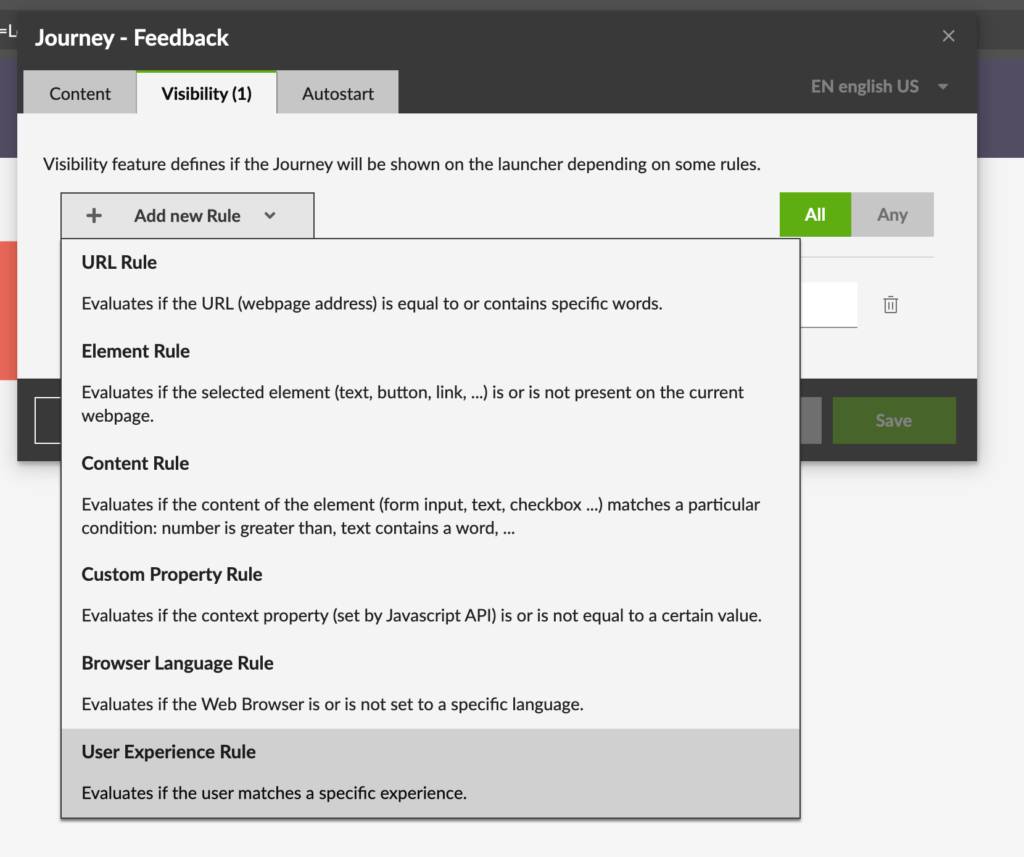 ---
Property Rule Testing
The custom property rules enables you to segment content visibility, auto-plays, or journey branching based on any dynamic criteria by passing the values to Newired via API. 
✸ Key benefit: Testing before going LIVE. We offer you now the chance to test any journey with dynamic criterias and according rules directly into the Newired Editor, before the deployment moment.
For now, if you need to set up custom properties for evaluation in Editor, please let our Support Team know and we'll be happy to assist you.
---
Up to 10x Faster Algorithms
✸ Key benefit: Major performance improvement! We have optimized our algorithms that – depending on the target application and complexity of your Journeys or Tips – they perform up to 10 times faster.
---
Other Notable Improvements and Fixes
The "End Journey" Button will only show with the "Next" transition;
The "Extra wait time" has now been moved to the selector precision panel;
Now you have nice UI feedback when changing steps order;
Added new supported languages: Brazilian Portuguese, Colombian Spanish, Norwegian Bokmål and Japanese;
Fixed issue that made images from Snipping Tool doesn't appear in Editor;
Enabled switch off automatic page changes for rule subscribed elements;
Fixed issue where step links for invisible Journeys don't play; 
Fixed issue where the Extra wait time for I-Frames doesn't work in the browser;
Fixed issue where Visibility rules for Tips do not work with any for the negative scenario; 
Fixed issue where Newired fonts in top document violate CSP; 
Fixed issue where Autoplay doesn't work in Editor for the 2nd time when you add content rules; 
Fixed issue where you cannot see the change of the language in the version without adding translation; 
Fixed issue where you cannot read special characters when removing an item in a versioning; 
Fixed Invalid Journey links in Tips for duplicated Site; 
Fixed issue where Tips are set to autoplay even if autoplay is disabled in the Editor; 
Launcher now appears when Journeys and Tips are invisible; 
Removed Unwanted drop-off feedback on stop Journey; 
Fixed an issue occurring with importing long name Journeys; 
Fixed issue where the editor doesn't remember dev tool settings; 
Fixed issue where the overlay does not redirect correctly on pages using hash and parameters; 
The editor can now load the captcha; 
Fixed issue where the browser language is not applied in all frames; 
The Order of journeys in the editor is now aligned with the order of journeys in the Docx export; 
Improvement: Portal redirects to the list of users after making changes on an account; 
You can now filter out the change site on Editor.
---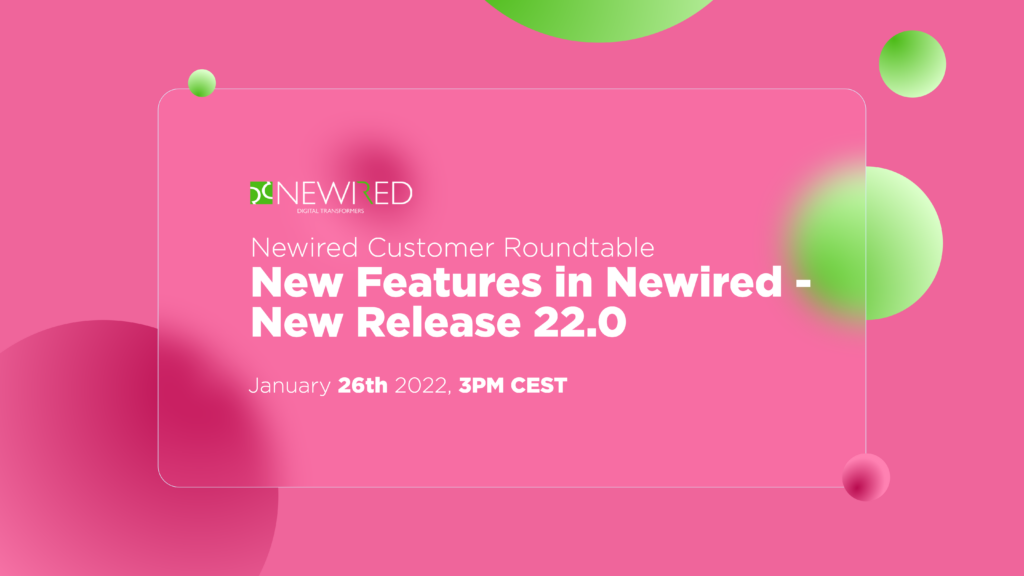 Join our RoundTable Webinar to find out more about the Benefits within the NW Release 22.0 and get the chance to ask direct questions to our Specialists

SAVE THE DATE: 26th of January, 3PM CEST
---