Product/Application Lifecycle Management
Make

your

PLM/ALM

a

breeze!
Supplement the Lifecycle management toolchain and processes with on-screen process guidance, input validation and user onboarding to maximise the benefit of your ERP investment..
Keep people aware and trained on the new tools and processes
Prevent input errors with data validation and contextual input suggestions.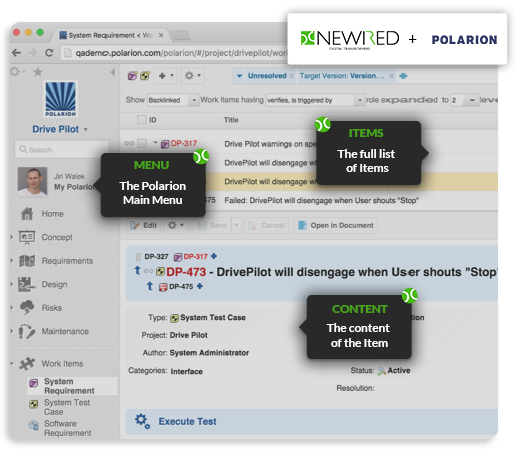 The quality of your process depends on how well it is understood by its users. Today's standards call for constant process improvements. With Newired you do not need to be afraid to change the way people are used to work. You can introduce changes in a friendly way. Explain why that change is taking place and how users shall work from now on
How

Newired

Helps

Your

Business.
With Newired, empower every role - from new-hires to C-level executives with step-by-step on-screen guidance, so that they get acquainted with its features and processes in no time!
Eliminate data input errors and improve data quality in an automated and non-intrusive way. Make the users informed or warned only if or when they need it.
We provide maximum security and total control over your data. Newired can be installed fully on-premises, under your control.
With Newired, support calls are reduced and, when needed, your operation department is empowered to quickly help users and customers solve queries.
User-interactions
within 6m
Of internal training
costs saved
Number of users
of our product
Whatever PLM/ALM system you use
Learn

how

Newired

can

improve

digital

adoption
Register for on-demand webinar – recording of what we are doing in a few days/weeks.
Try Newired on your own PLM/ALM