Get

faster

CRM

system

adoption

with

automated

user

guidance.
With Newired overlay guidance you can maximise the investment on your CRM improving onboarding and adoption.
Reduce friction in using your CRM and maximise the potential of your software.
Encourage standardization of procedure to improve quality of your data.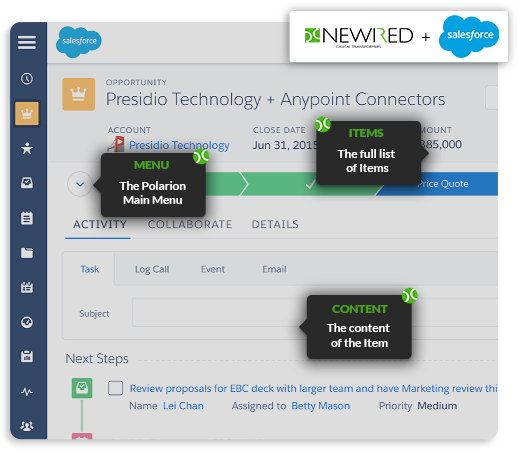 CRM are vital support for every business, but often the adoption encounters resistance. Sales, Marketing and Service departments need to be constantly trained to assure the procedures are followed and the data input is correct.
With Newired you can improve this process providing the support tailored to the different tasks that every role requires.
Right where and when they need it.
How

Newired

Helps

Your

Business.
Your CRM users will learn by doing, and at the same time, will be able to complete processes on the platform even if it's their first time there.
When CRM users know exactly what to do, they'll extract the data they need and produce reports in no time.
When your users know they can rely on Newired any time they need, they won't find alternatives to carry out tasks outside it.
Easily deploy guidance in multiple languages and contemplate your users in diverse locations.
Email interaction
for assistance
Bigger traffic to
knowledge base
Industries in which
our clients operate
Whatever CRM system you use:
Learn

how

Newired

can

improve

digital

adoption

of

your

CRM
Watch the example on Salesforce, showing how Newired can help users with guidance on a CRM software:
Try Newired on your own CRM