New and Noteworthy
We are happy to announce the 3rd release of this year of our well recognized digital adoption solution: Newired 22.3.

This is the last milestone of this year, on our release journey before launching Newired 23, in January next year.
Newired 22.3 brings a major new capability: Personal Analytics. Read below and learn how this strictly optional feature helps you to better understand your user behavior.
---
1.     Newired Analytics
Newired has privacy and security built into its core principles.
As a result, we are the only Digital Adoption Solution that allows you to decide whether to collect or not to collect data and we now support all the 3 options, fully under the client's control:
[Default] No user tracking at all (no data leaves your end-user computer).
Anonymous analytics – you collect and store only anonymised information, and so you can read the aggregated statistics, such as: how often journeys are executed and with what status (only non-personal information is being transmitted from the end-user computer and stored on your secure server).
[New] Personal analytics – you can decide to turn on personal tracking so you can understand who passed what Journey.
In addition and exclusively with Newired only, when analytics are enabled, you can either:
store all data on your premises (no data leaves your network);
store data in our customer-dedicated SOC-2 secure cloud hosting provider.
1.1 [New] Personal Analytics Reporting
Personal analytics give you information about who did what with Newired.
You can read that on the Journey Report segment in our analytics.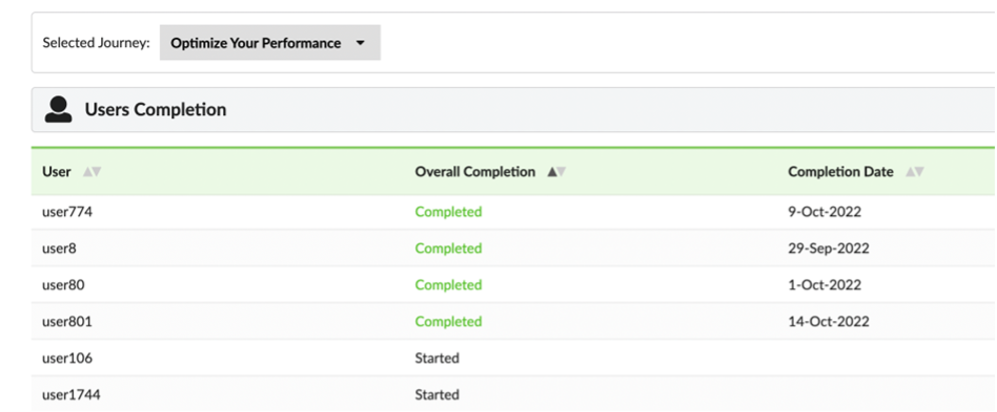 1.2 Playbooks Analytics
In addition to single Journey reporting, Newired analytics covers reporting across Newired Playbooks.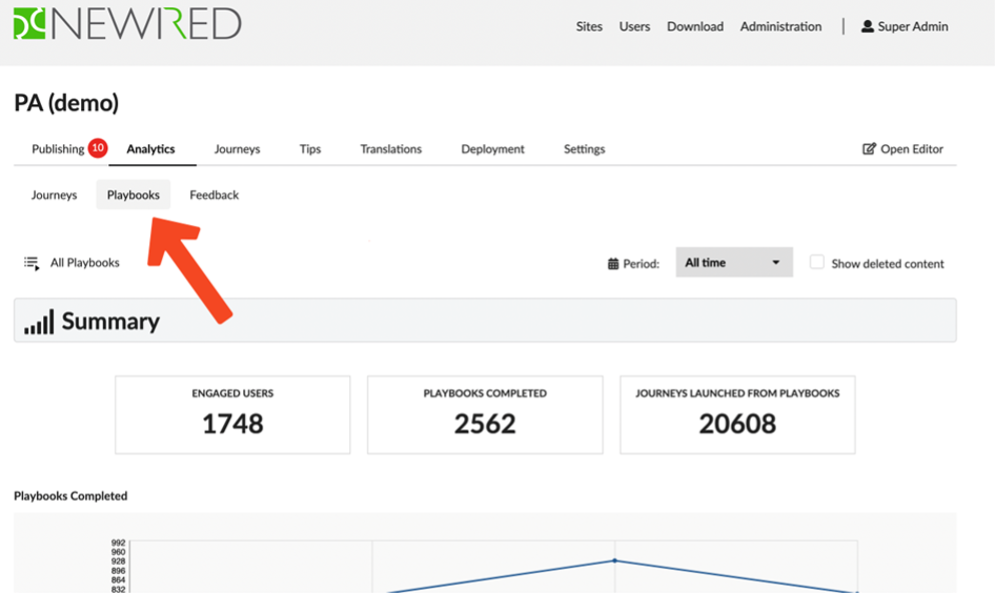 If personal analytics are enabled, you can easily understand who completed a training: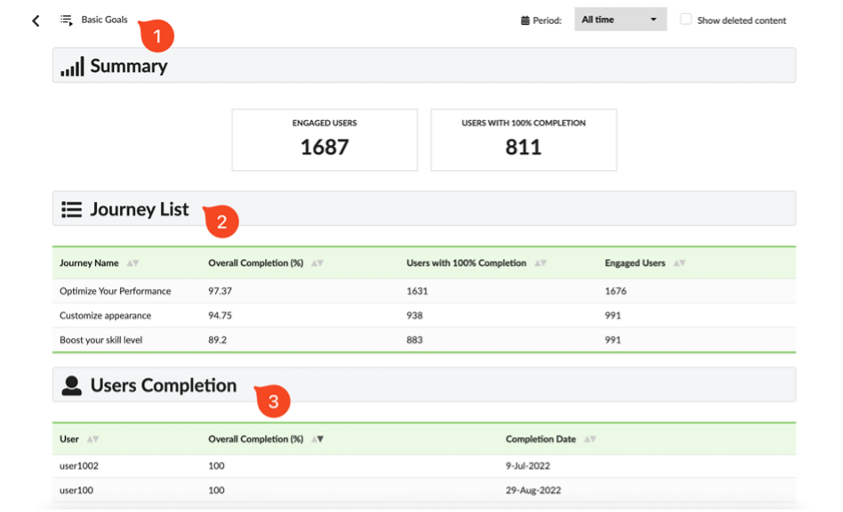 Notes:
Selected Playbook (in this case: Basic Goals) Report
Per Playbook Journey summaries
Detailed personal completion results
1.3 Enable Personal Analytics
Personal analytics capability, as stated above, needs to be enabled in Newired administration panel: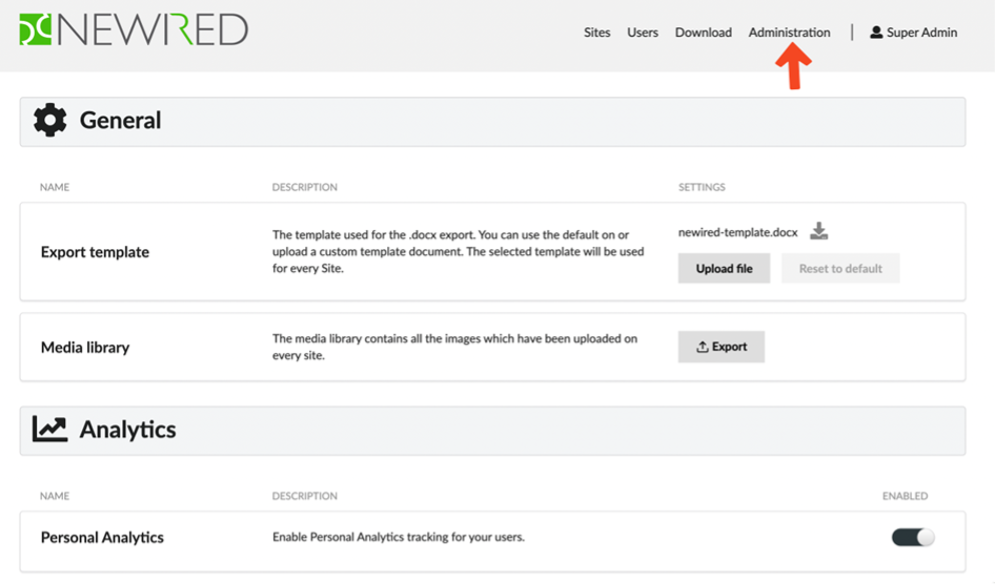 2. "Journey has stopped" Notification
When a Journey fails in Editor for whatever reason, the content author is notified so he/she can fix the situation.
But what about end-users? We do not want to throw error messages to your users, since this might distract them from their major goal. Yet, we have decided that we should inform them. Now, when a Journey fails, they'll get the popup notification.

3. Auto-Hide Newired Status Bar
We have listened to those of you that were finding the always visible Newired status bar (footer) as too disrupting the user screen.
Newired has been chosen as the WINNER of the #CALL4STARTUP initiative organized in Parma – Italy, by CRÉDIT AGRICOLE ITALIA, in collaboration with Le Village by CA Parma, one of the startup accelerators of the international network signed by CA.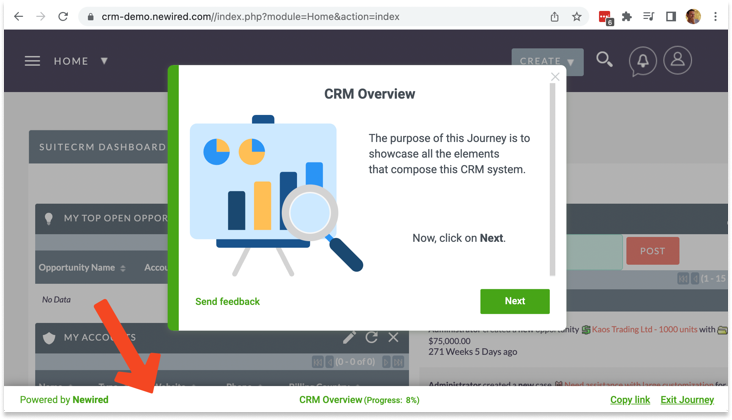 From now on, you can enable it into the site administration with Auto-hide option, so the bar gets visible only when you put your mouse to the end of the screen.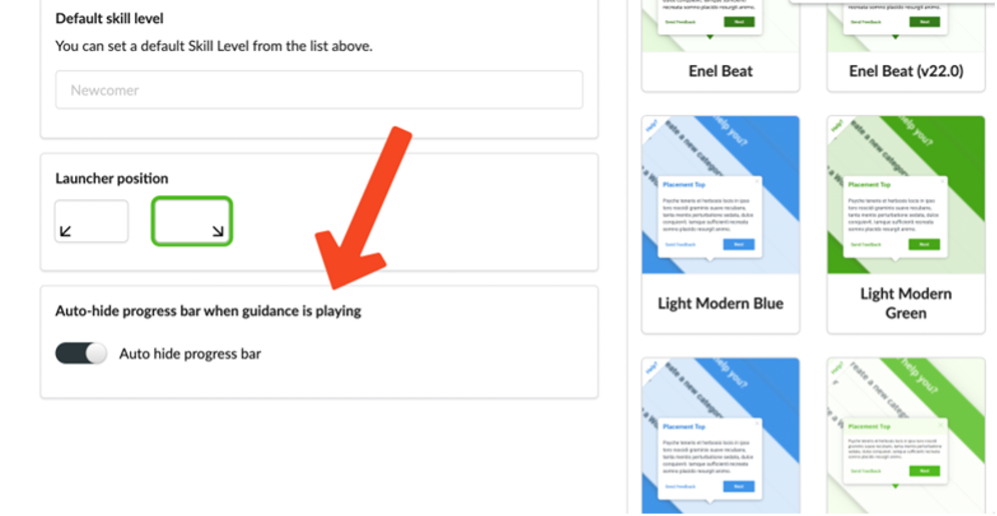 4. Site-specific User Experience Levels
Skill levels are a great feature to enable your users to see only as much guidance as they want.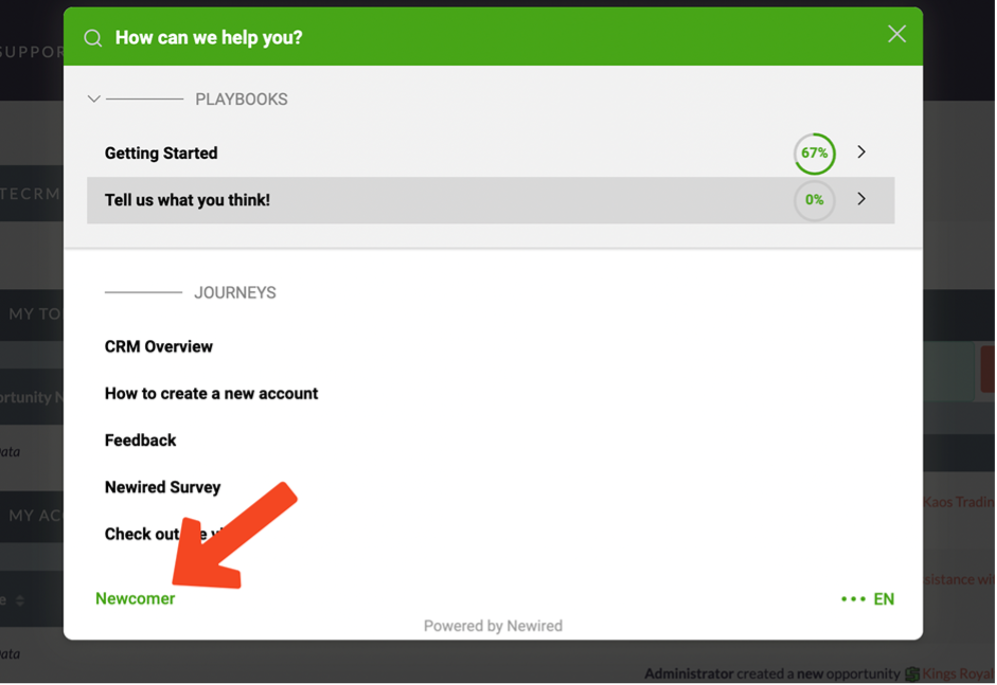 But we've noticed that you want to define the different options for different apps. Define your own list, again in the site administration: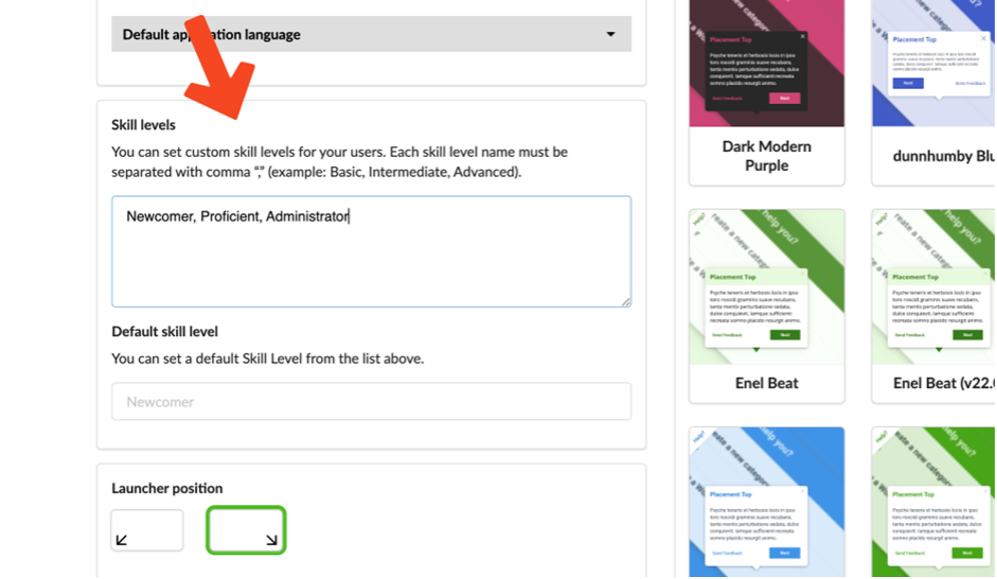 ---
Other Notable Improvements and Fixes
Confirm loss of data when closing the big editor with unsaved content;
Switch type of Step inside Journeys;
Redesign UI for score selector (do not confuse people with RED score);
Start Journeys with one click on launcher list;
Filtering option on Site Listing in Portal;
Passive mode hint in element selection notification;
Renaming "Autoplay" to "Auto-show" for Tips, + journey rename to "Auto-start";
Fixed issue BG-17544 – Unexpected error when duplicating site;
Fixed issue BG-17498 – Translation for Step Action messages isn't copied into the new Site;
Fixed issue BG-17475 – Spotlight disappears when the element is not in the web-view anymore;
Fixed issue BG-17429 – Snippet doesn't overwrite the extension;
Fixed issue BG-17404 – Missing message in the Editor after clicking on Journey link with redirect;
Fixed issue BG-17397 – Journey link is not copied from progress bar in Firefox;
Fixed issue BG-17396 – Journey doesn't continue after editing a step;
Fixed issue BG-17388 – Selector score is missing in Tips after the first opening of the edit dialog;
Fixed issue BG-17267 – Overlay not start due not available Cross-Domain Storage;
Fixed issue BG-17250 – IFRAME mutation observer missing;
Fixed issue BG-17247 – Using AWS load balancer customer is losing the Access-Control-Allow-Origin header;
Fixed issue BG-17244 – Editor crash on attempt to load URL after failed load of another page;
Fixed issue BG-17235 – Selector disappears when you use passive mode get redirected;
Fixed issue BG-17061 – Buttons in default size don't have the correct position in Light and Dark themes;
Fixed issue BG-17038 – Kanji doesn't work for Journey/Tip/Playbook names in versioning;
Fixed issue BG-16850 – Passive mode is not grey when turned on from the Sidebar;
Fixed issue BG-16642 – Being able to see links of unpublished Journeys in the runtime;
Fixed issue BG-14197 – Reporting: Error in Absolute count numbers on vertical axis of some graphs;
Fixed issue BG-13807 – Playbooks in Launcher overflow if there are too many of them.
---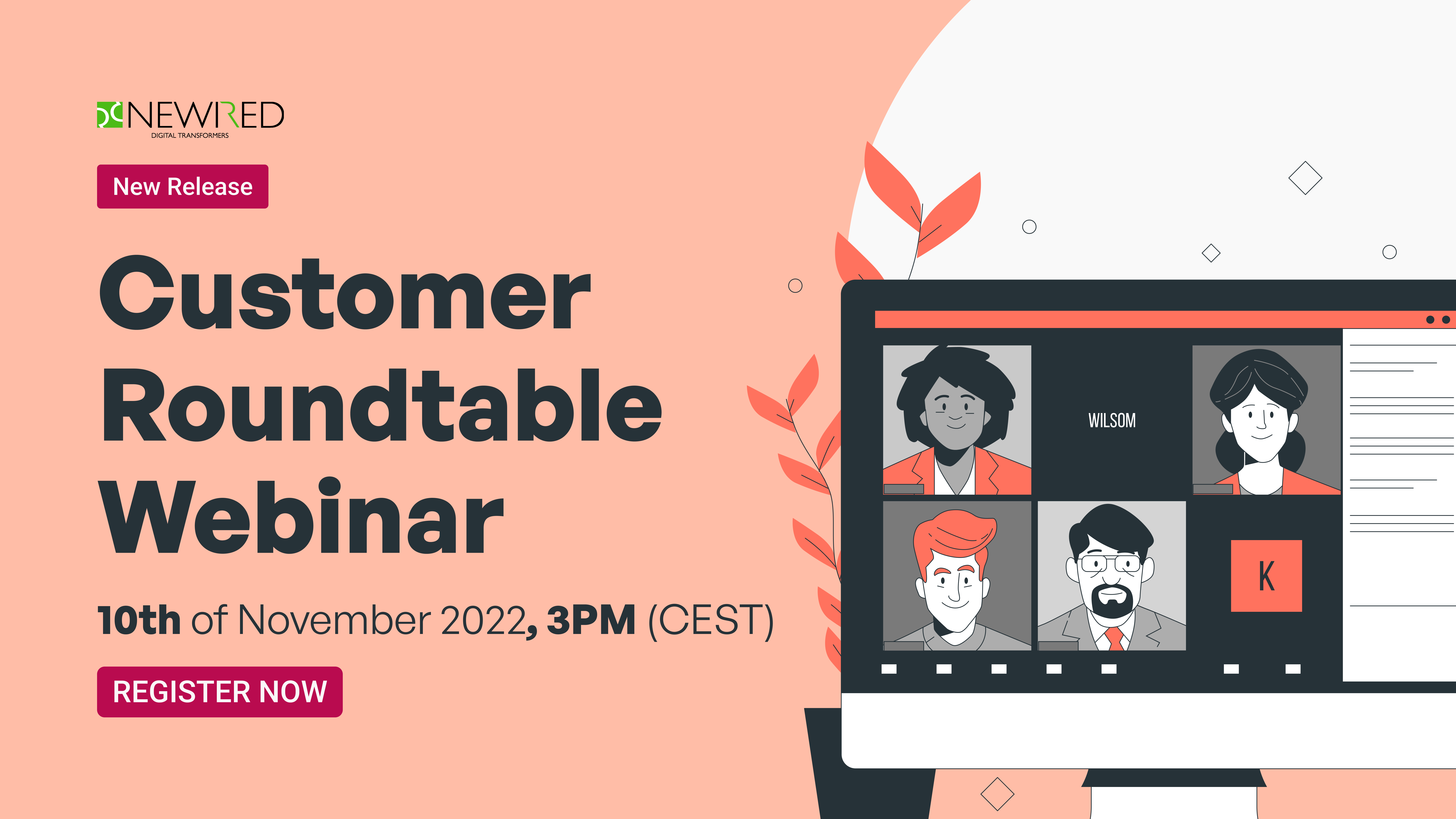 Join our Customer RoundTable Webinar to learn more about the new capabilities in the New Version – Newired 22.3
This Webinar is for YOU: 10th of November 2022, 3PM CEST
---