Written by Frank Schroeder and Lucia Manetti
Nowadays there are multiple disciplines in the digital field focused on users. Whenever users are customers as well, we are talking about Digital Customer Experience,
Before we think about it, let's think about the topic from a wider perspective, following some definitions for Customer Experience CX from Wikipedia, Harvard Business Review and Forrester Group.
---
What does customer experience mean?
In commerce, customer experience (CX) is the product of an interaction between an organization and a customer over the duration of their relationship. This interaction is made up of three parts: the customer journey, the brand touch points the customer interacts with, and the environments the customer experiences (including digital environment) during their experience. A good customer experience means that the individual's experience during all points of contact matches the individual's expectations. Gartner asserts the importance of managing the customer's experience.[2]

Wikipedia
To be really successful on a long-term basis, customer experience needs to be seen as all these things, and more. It is the sum-totality of how customers engage with your company and brand, not just in a snapshot in time, but throughout the entire arc of being a customer.

Harvard Business Review
"How customers perceive their interactions with your company"

Forrester
All definitions have one thing in common: the interaction between a company and a customer over a period of time (user journey) touches different points, including the digital environment, which is a relatively recent key player.

In the past, a lot of companies have seen a good customer experience just from a single viewpoint: how good and fast the support and service departments interacted with a customer.
This is maybe one of the reasons for the misperceptions about how companies evaluated their customer experience management and how it has actually been perceived by the customers.
Here is an explaining infographic by Brain & Company (2005), showing a clear inconsistency between the companies' and the customers' perception.

Brain & Company study from 2005:
---
The Digital Customer Experience
In the last years, the importance of Digital User Experience (DX) increased more and more.
The digital user experience is the experience a user has in a digital environment. This is usually the domain of Web Design and Content Management and refers to elements such as colors, layout, navigability and performance of a website. This got expanded recently, by defining how intuitive a page or mobile app is and how efficient it is to complete an action on it (clicks or swipes).
The easy and intuitive integration between different applications and apps is also important for a good user experience, such as how open the application is to possible integrations.
A Digital Customer Experience is all about what a consumer encounters while interacting with the products, services or brands via a digital interface. The kind of device is also important: computers, tablets or smartphones.
Strong Digital Customer Experience has direct positive impacts on:
Customers
Sales/revenues
Loyalty
---
What are the success factors of Digital Customer Experience?
Times have changed, in the last decade the companies have started to listen to customers requests more attentively and to evaluate the results of their Customer Experience activities by collecting user feedback.
The Digital Customer Experience gets more and more relevance as the diffusion of e-commerces platforms, wide websites and web portals grows up.
There are at least 6 success factors of the Digital Customer Experience:
Everyone in the company should know their place inside the customer's Journey and align their actions with the brand.
A strong vision, coming from the top of the organization.
We need to consider not only the customer experience, but also the employee/colleague experience that we create, in order to inspire and engage the team who makes it all happen.
Brands need to break down the barriers between digital and physical touch points to create one seamless customer journey. And in doing this, create something that's naturally holistic and multi-channel; CX and UX should not be set apart, they need to be considered as one entity;
Brand basics are the things customers expect brands within a category to deliver, done in a uniquely on-brand way; designed to boost customer satisfaction and build a brand in a positive light.
Personalization is a much more valuable tool when used to deliver things that are useful to customers, rather than churning out personalized marketing messages using the data they provided.
---
How can companies achieve an excellent Digital Experience?
Since Customer experience became a hot topic for businesses, everything quickly moved one step ahead toward Digital Experience. The worldwide market is going digital and even when a company affords its "Digital conversion", like, for example, a little market that starts selling its products online, this is just the first one of the digital challenges in store for them. Just think of Amazon and other major e-commerces, that have been struggling for years in order to find the very best digital experience for their users, pushing innovation and investments like never before.
Mathew Sweezey, Principal of Marketing Insights at Salesforce said, this is what Digital Experience entails:
"Track every customer touchpoint. Collect data to identify individual personas. Make sure they're on the correct path, and use that data to programmatically scale amazing experiences across the entire customer lifecycle."
From an operative perspective, Digital Experience is not just about the IT department; in reality, the first department which is responsible for it is the Marketing department, followed by the IT, Customer Experience department and Sales. If we look at the strategic management, Digital Experience is a matter of company's culture, since the heart of it are CEO's decisions.
The Digital Marketing Trends Report by Econsultancy and Adobe asked companies to indicate the single most exciting opportunity for their organization in the upcoming year – and once again, the same answer came out on top: customer experience.
It's no surprise that customer experience is high on the list. A research by American Express found that 60% of customers are willing to pay more for a better experience.
According to research from IDC, two-thirds of the CEO's of Global 2,000 companies will shift their focus from traditional, offline strategies to more modern digital strategies to improve the customer experience before the end of 2019 – with 34% of companies believing they'll fully adopt digital transformation within 12 months or less.
Despite this investment, digital experience is still in its infancy, and brands are still maturing. Clearly senior leaders value its importance, but the day-to-day practice of this new discipline is yet to be perfected, or even fully understood. It's just a matter of time.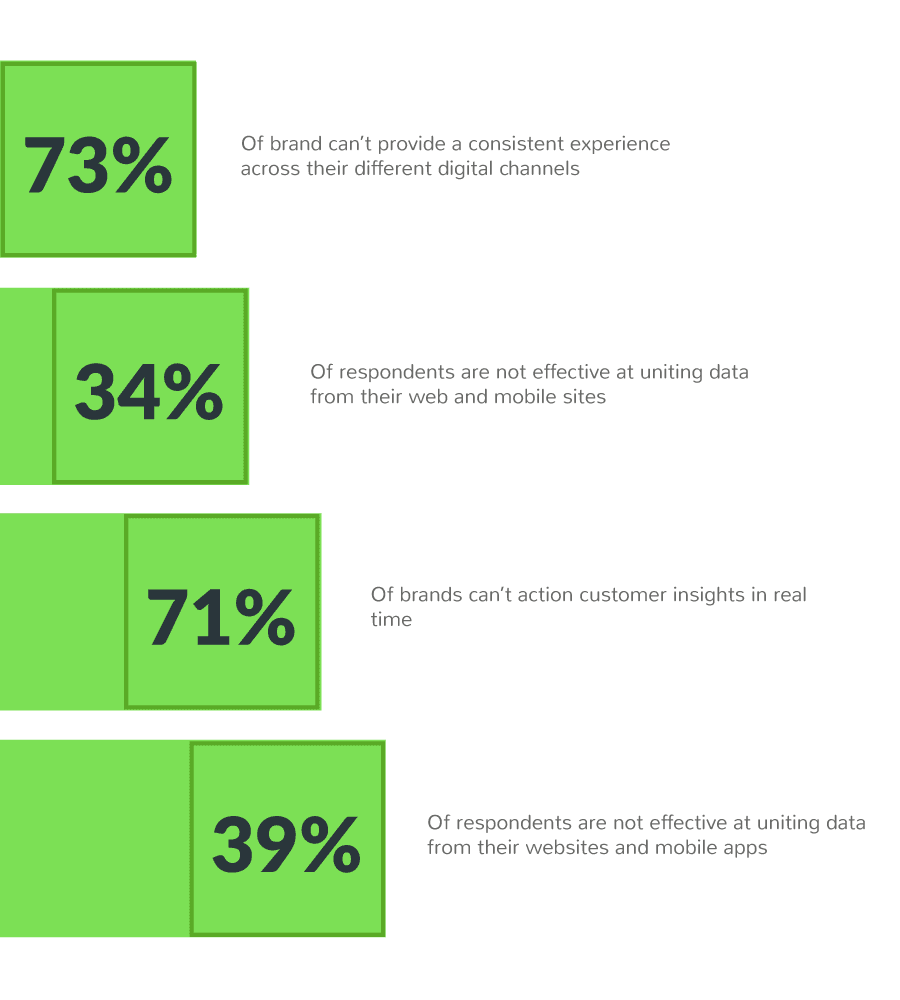 But what are the priorities to be considered in order to achieve the objectives of Digital Experience strategy? According to a report by Clicktale, they are 3
Customers loyalty: digital experience must allow companies to build more engaging long-term relationship with their customers, helping in their acquisition and nurturing. In fact, 73% of customers develop affinity for a brand and remain loyal to it because of great customer service agents.
Understanding of customers behavior: putting up systems or using connected platforms in order to gather data about user behavior makes possible to know which will be the next steps to improve the product and what turns around it.
Informing a clearer customer experience: the digital experience analysis is able to collect what really matters to make users happier. And when users are customers, any information is precious.
In the future, it will be important to collect even more detailed data about user behaviour, according to Digital Experience experts, this will concern in particular three things: customers' emotions, behaviors and mindsets, their intent and page behavior.
Clearly, behavioral data will form a key part of digital experience strategies in future, with many hoping that this additional layer of insight will provide a competitive edge and allow brands to understand their digital customers on an increasingly human level.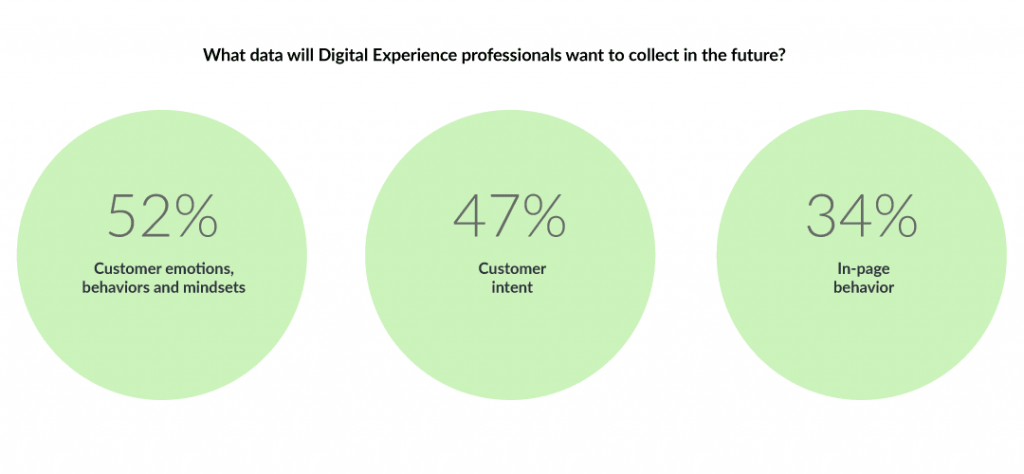 ---
Empower users now!
At Newired we deliver 100% no-code
tools which allow the delivery of quick usability fixes, speed up onboarding on any web application and put users first.