THE SEDUCTION OF THE "NEW"
People are always looking for the latest and greatest technologies to help them improve their lives or their businesses. This desire for the newest and best products creates a constant demand for innovation, which drives the development of new technologies.
The seduction of "new" in the digital adoption market can be closely tied to the concept of planned obsolescence, which is the practice of designing products with a limited lifespan to encourage consumers to upgrade to newer models. Planned obsolescence can be a key strategy for companies to ensure a continuous revenue stream, as customers are encouraged to replace their products frequently.
But here comes Newired, who addresses planned obsolescence by providing a platform that is designed to be user-friendly, intuitive and easily upgradable and compatible with a wide range of software and hardware systems. Newired integrates seamlessly with existing systems, allowing users to continue using their current software and hardware for longer periods of time. This eliminates the need for other software replacements, which can be expensive and wasteful.
Cutting costs. Organizations can get more value from their existing software and hardware investments by maximizing user adoption and engagement, rather than simply replacing them with newer, more expensive technologies.
Innovation at its finest. Newired remains innovative in the constant demand for innovation by staying attuned to customer needs, embracing emerging technologies, continual product development, collaborating with partners, and investing in research and development.
While the seduction of "new" is a double-edged sword, Newired is able to meet the unique needs of the customers and stay ahead of the curve in a rapidly evolving market.
Loredana STAICU
Marketing Manager, Newired 
---
Newired proudly welcomes Me Learning as new business partner in the UK
For over 16  years, Me Learning has provided engaging, informative and clearly explained learning materials for complex and challenging professional environments.
The primary mission of Me Learning is to engage and empower learners to achieve exceptional outcomes by designing training according to proven learning theory.
Newired CEO, Stefano Rizzo says: 

"We are very excited to partner with Me Learning in the UK market. At Newired, we are constantly dedicated to achieving technical excellence in digital adoption. We rely heavily on the ability of our local partners to provide tailored, comprehensive solutions to their customers. Me Learning is the perfect fit for us and for UK customers."
Me Learning CEO, Nick Richards says:

"We are excited to partner with Newired to offer our clients more choices regarding software training. This new relationship will allow us to provide a more comprehensive solution for our clients, helping them to improve the return on investment from software, and their business processes and drive success."
Loredana Staicu 
Marketing Manager, Newired
---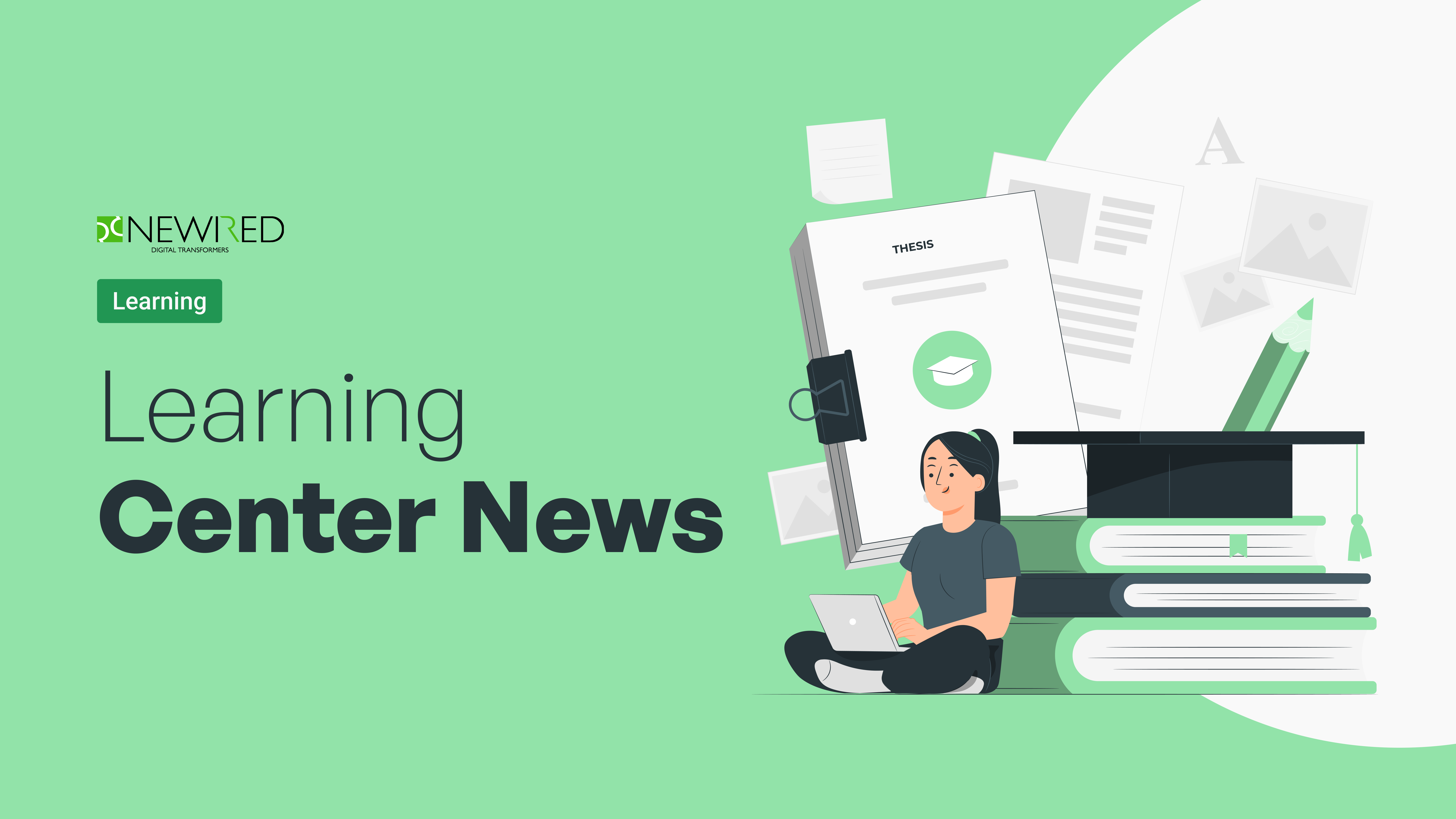 Newired offers you Professional and Expert Certification
Newired Professional Certification
If you are an Instructional Designer or a Creator of Digital Adoption Content for your Company, you must consider becoming a Newired Certified Pro. By obtaining a Newired Professional Certification level, you will become a class A citizen in the Newired Community, you will be entitled to participate in the forthcoming deep dive technical sessions by Newired Customer Success Team and you might be entitled to have previews of the coming features. To get the Professional Certification, an on-line certification session is available as the final goal of specific Newired training. 
Get in touch with our Customer Success Team for further details!.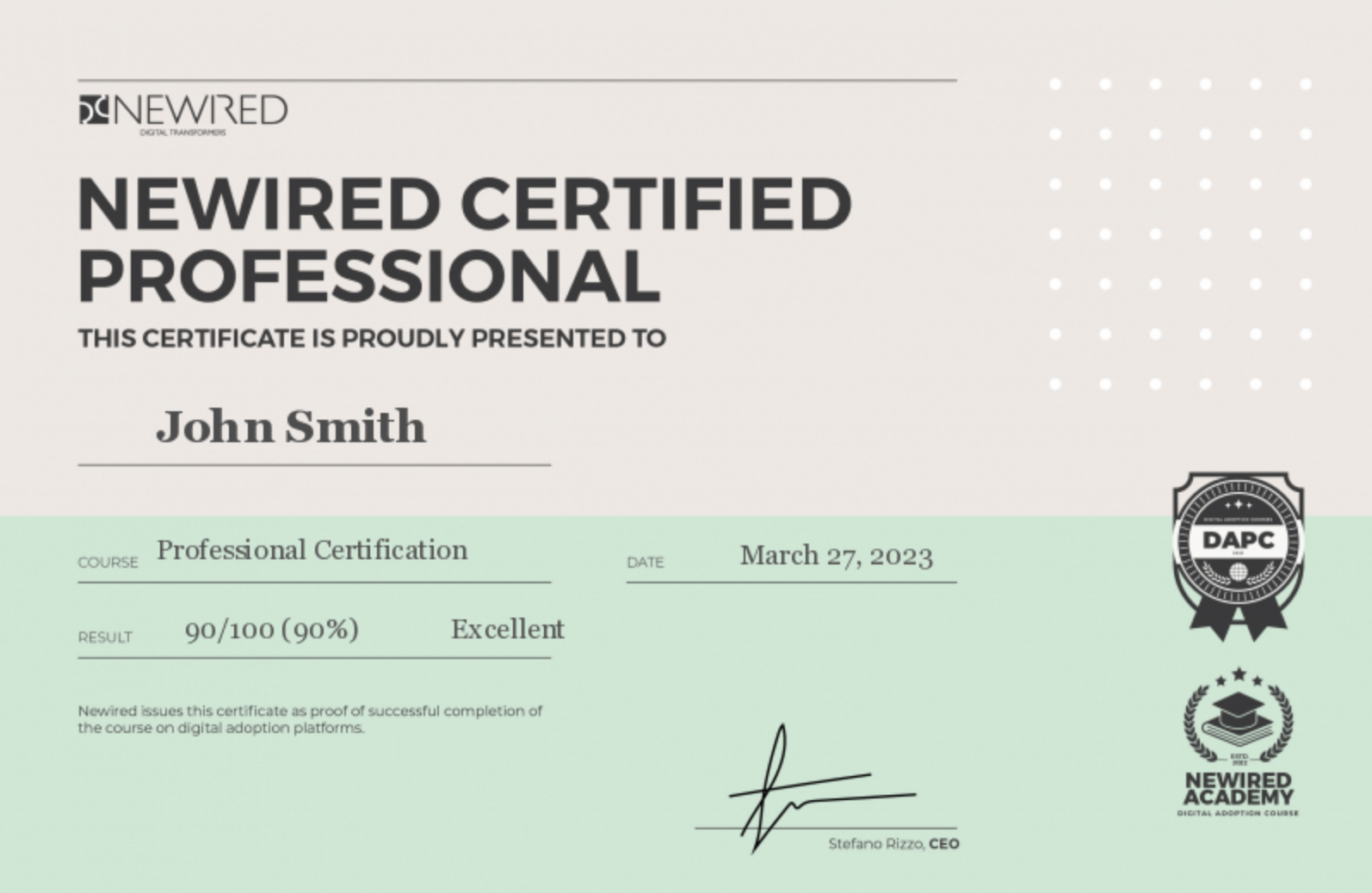 Newired Expert Certification
If Digital Adoption is your passion and you want to be recognised as a guru of Newired, the Newired Expert Certificate is for you!
As a Newired Certified Expert, you become a fellow of the Newired Customer Success Team, with direct access to the Newired Product Management that will engage you in discussions about the product future and definition of features.You also become officially qualified to train other members in your team team, to eventually make them achieve the Newired Professional Certification. As a partner, you will be entitled to provide level 1 technical support to your customers. 
The certificate is released by Newired after passing the specific exam at the end of a specific training path. 
Get in touch with our Customer Success Team for further details!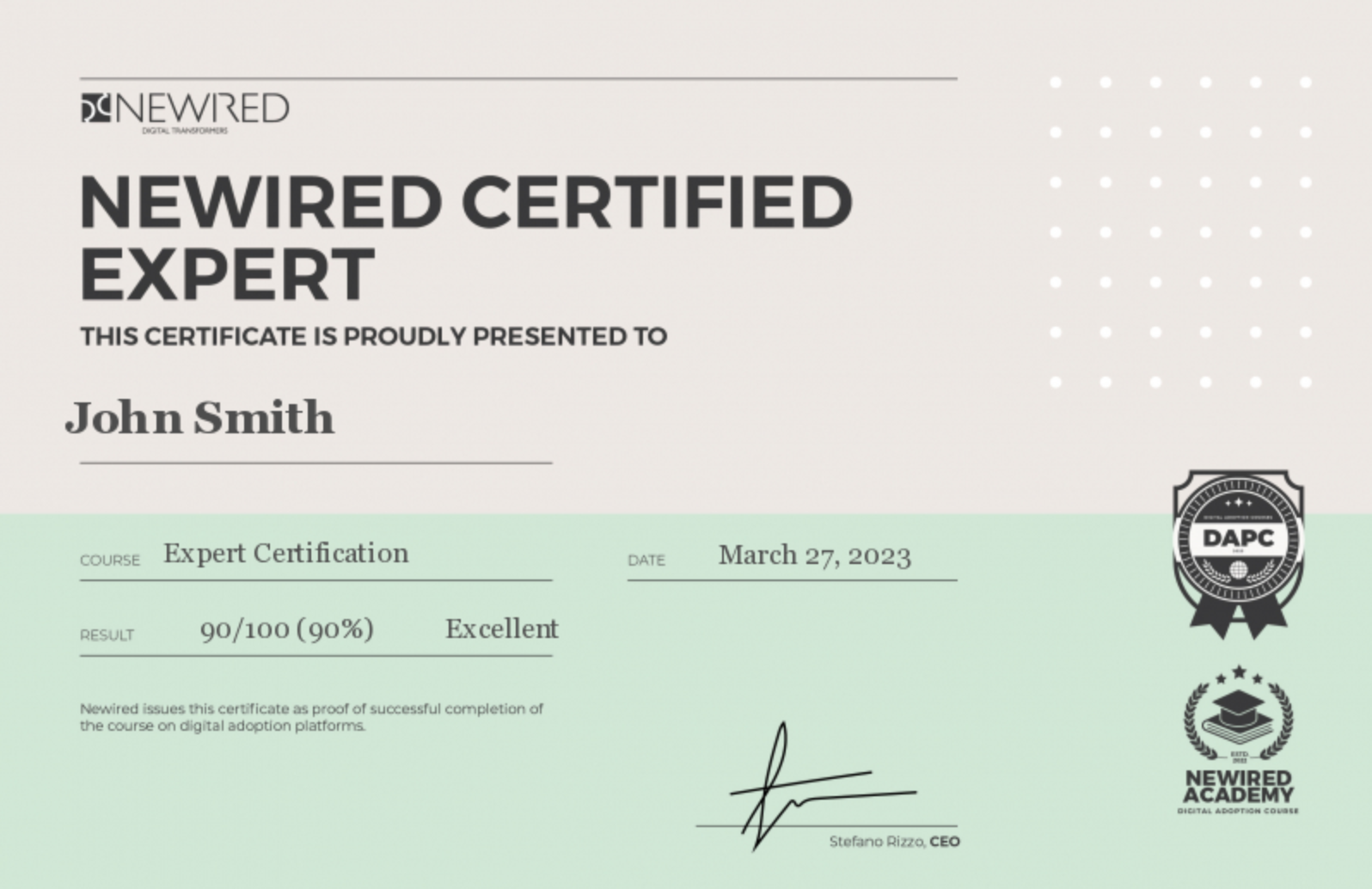 Chris DEWIPPE
Head of Customer Success, Newired

---