We are thrilled to share with you the exciting vibes from our recent gathering in Turin, where the Newired team and our partners came together for an extraordinary experience filled with enthusiasm and shared vision. The event brought together representatives from various countries, including the UK, the Netherlands, Italy, the Czech Republic, and Germany, creating a diverse and vibrant atmosphere that fostered creativity and collaboration.
At Newired, we firmly believe that strong relationships and teamwork are fundamental pillars that empower us to overcome challenges and reach new heights. We are proud of the cohesive and dynamic environment that has been nurtured over the years, enabling us to evolve and adapt to the ever-changing landscape of technology.
As we embark on this journey of progress and innovation, we want to express our deepest gratitude to each member of our team and our esteemed partners: your dedication and passion continue to inspire us to push boundaries and strive for excellence. Your support is invaluable, and we are excited to build a prosperous future together.
With heartfelt appreciation and warm regards,
The Newired Team
---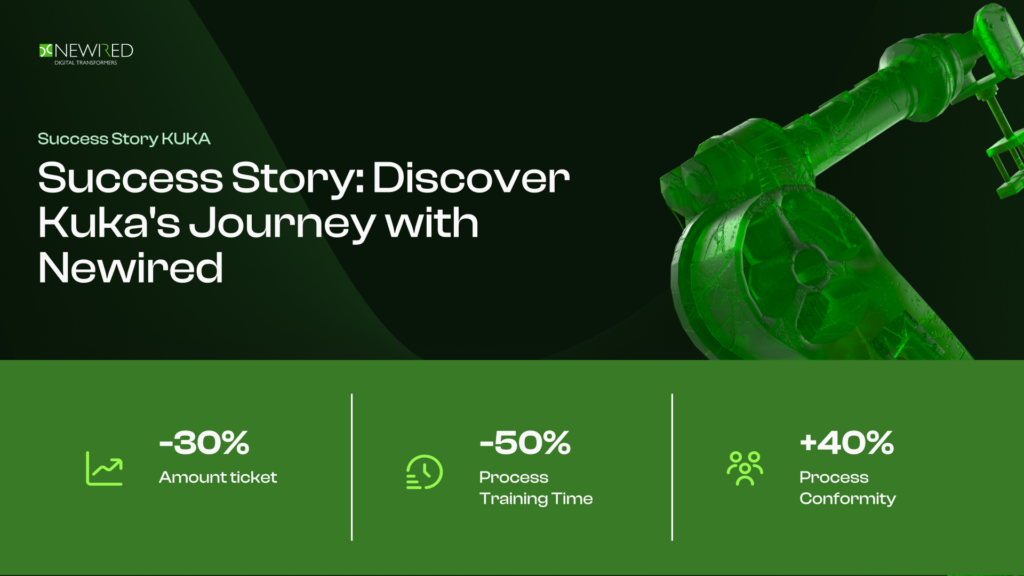 CHALLENGE: KUKA had been utilizing Polarion to manage their documentation and streamline their processes. However, they encountered difficulties in the document signing section, which resulted in delays and confusion for users.
SOLUTION: Newired offered KUKA a user-friendly solution that allowed them to create interactive journeys within Polarion. 
BENEFITS: By leveraging Newired's interactive journeys, KUKA successfully transformed their document signing process, enhancing user experience, and increasing operational efficiency. The implementation of Newired not only simplified navigation and reduced errors, but also improved user satisfaction and productivity.

Loredana STAICU
Marketing Manager, Newired
---
Are you eager to expand your knowledge, discover best practices, and explore insightful articles related to Newired's solution? Look no further! Our comprehensive Learning Center is your one-stop destination for all the answers you seek.
🔍 Browse a Vast Array of Insightful Articles: Whether you're a seasoned user or just starting your Newired journey, our articles are tailored to cater to your learning needs.
🎓 Access Step-by-Step How-To's: Need guidance on using a particular feature or enhancing your skills? Our detailed how-to's will walk you through the process, ensuring you're equipped to make the most of Newired's capabilities.
🎯 Submit a Support Ticket with Ease: Encountering an issue? Our support ticket form is designed to make the process hassle-free. Just describe your concern, and our dedicated team will promptly address it, providing you with the support you need to excel.
💡 Empower Yourself with Best Practices: Our knowledge base is not just about troubleshooting; it's also a treasure trove of best practices! Discover tips and tricks to optimize your workflows and achieve remarkable results.
Chris DEWIPPE
Head of Customer Success, Newired
email chris.dewippe@newired.com
---
August 2nd, 2023 @3PM CEST
Journey to Success: Revealing Best Practices and Quality Content Creation Tips with Newired
Ready to Step into Summer with Powerful Content Creation Skills?
Discover how Newired's innovative platform can revolutionize your content creation process, enabling you to simplify complex concepts, streamline workflows, and deliver step-by-step instructions that truly engage and empower your users.
In this 30 minute webinar:
explore best practices;

discover practical tips;

watch real-life examples that demonstrate how Newired can elevate your content to new heights of clarity and effectiveness
To learn more about Newired 23.2 and its groundbreaking features, visit our website and explore the release notes. Embrace the future of digital experiences with Newired, empowering your organization to deliver exceptional user journeys and stay ahead of the competition.