"If you do anything well, it becomes enjoyable. To keep enjoying something, you need to increase its complexity."
By introducing new features and functionality that require users to learn and master new skills, digital adoption platforms can help keep users engaged and motivated, leading to better outcomes for both users and the business.
However, it's important to note that increasing complexity should be balanced with usability and ease of use. The goal should be to introduce new challenges and opportunities for growth while still maintaining a user-friendly and intuitive interface. 
Newired surely stays ahead by listening to the needs of its users and introducing new features and functionality that promote a seamless and engaging user experience. The latest release – Newired 23.1, brings a host of new features and improvements that are designed to help businesses tailor their user experiences to different groups, preview changes in real-time, and make quick adjustments to journey links.
Newired 23.1 also includes a feature that allows businesses to customize the platform's user experience. This feature enables businesses to create a consistent brand experience across all user touchpoints, which is crucial for establishing brand identity and building customer loyalty.
Try out Newired 23.1 today and experience the difference!
Loredana Staicu
Marketing Manager, Newired
---
Spring is in full bloom, and so is Newired 23.1
Are you looking to streamline your digital adoption journey and make it more efficient and user-friendly? Look no further than Newired 23.1 – the latest release that's packed with amazing new features and improvements.
With Newired 23.1, you'll have access to a suite of tools that will help you better target different user groups, customize the user experience, preview changes in real-time, and make quick changes to journey links. Whether you're a small business or a large enterprise, Newired 23.1 has everything you need to enhance your digital adoption journey.
So why wait? Learn more about Newired 23.1 and try it out today to see for yourself how it can transform your digital adoption journey. You won't be disappointed!
4th of May 2023, 3PM CEST Time
Loredana Staicu 
Marketing Manager, Newired
---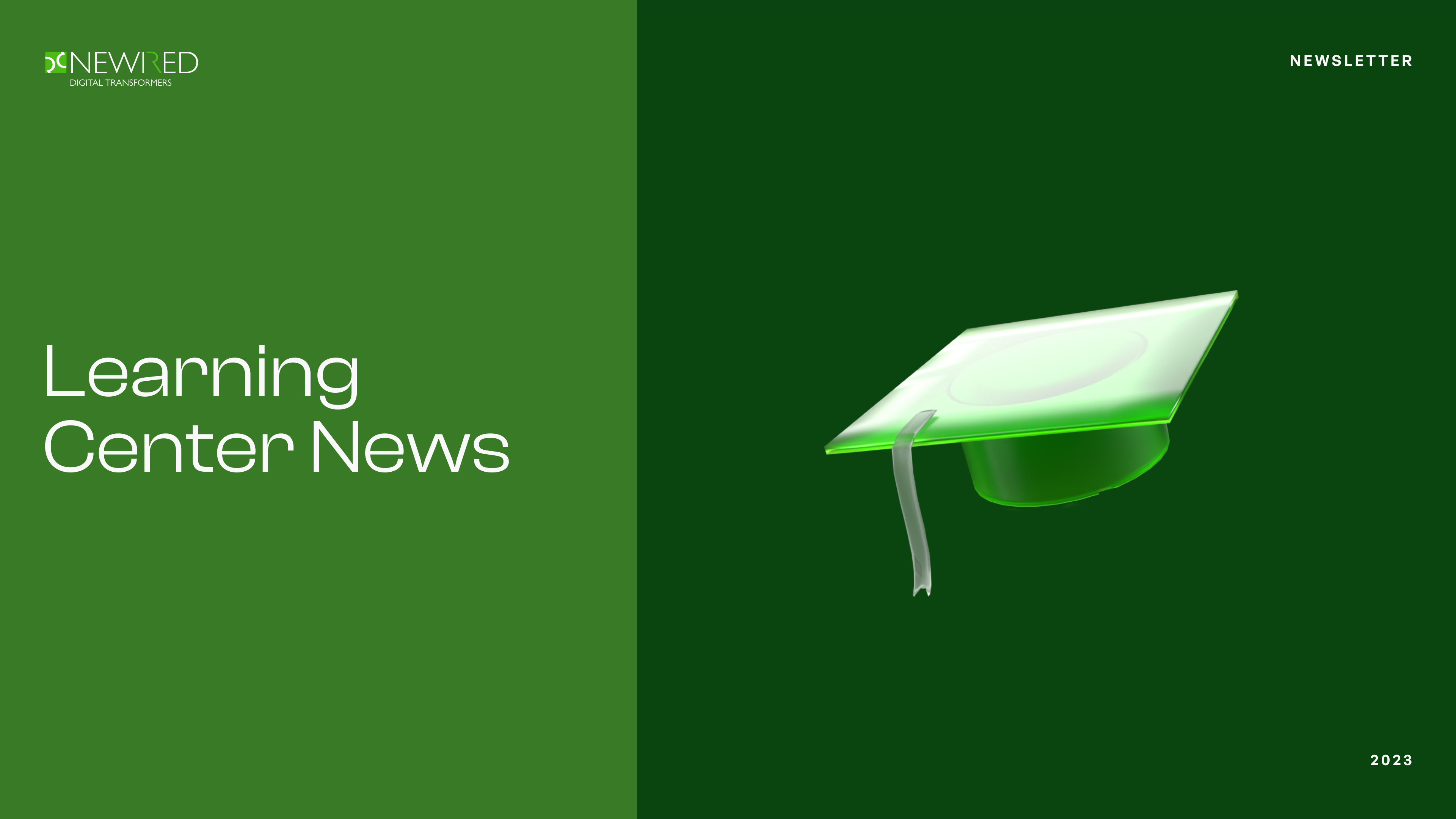 Segmentation: Creating & Assigning Segments
When organizations are using complex and structured guidance, it is needed to have the possibility to target different users (groups of users) with the specific content based on relevant criteria such as for example their roles, user experience level or others.
Sometimes it is necessary to make only some part of the content visible to the users or to remind a specific group of users with the autostart journeys.

The described options have been supported by Visibility rules so far. Segmentation allows to manage such use cases on the better level avoiding large rule duplication.

How to create Segments
Segment Editor
The Segment Editor is available in the Editor menu or you can access it using the F9 key.
A new Segment can be created using + button

Fill in Segment name (it is the only mandatory field)

Fill in Segment description (optional)

Use Add new Rule button in order to add one or more rules from the dropdown menu (it is also optional and Segment can be created even without rules)

Segment can be deleted – if you click on three dots on the Segment name level, you can use Delete button

Segment can be edited – anytime you access the selected Segment in Segment Editor, you can make any changes here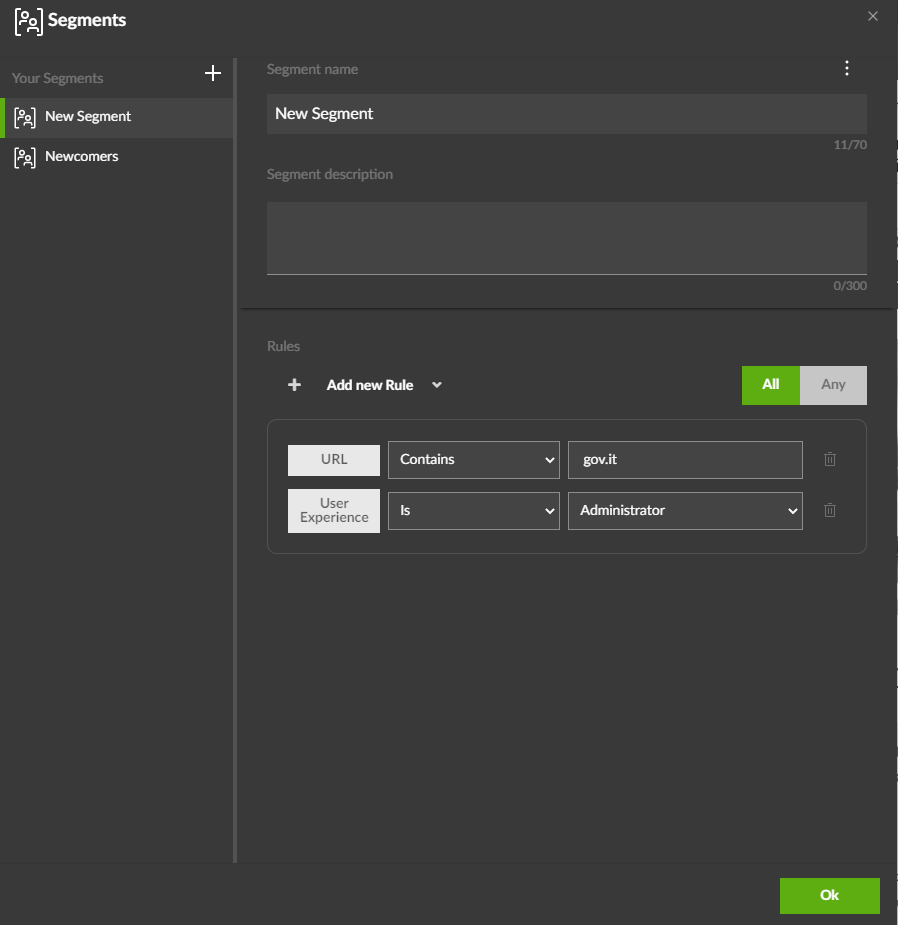 Saving Segment from Journey/Tip Edit dialog
There is also another way how to create a Segment:
First set Visibility/Autostart rule(s) in Journey/Tip Edit dialog

Click Save as Segment button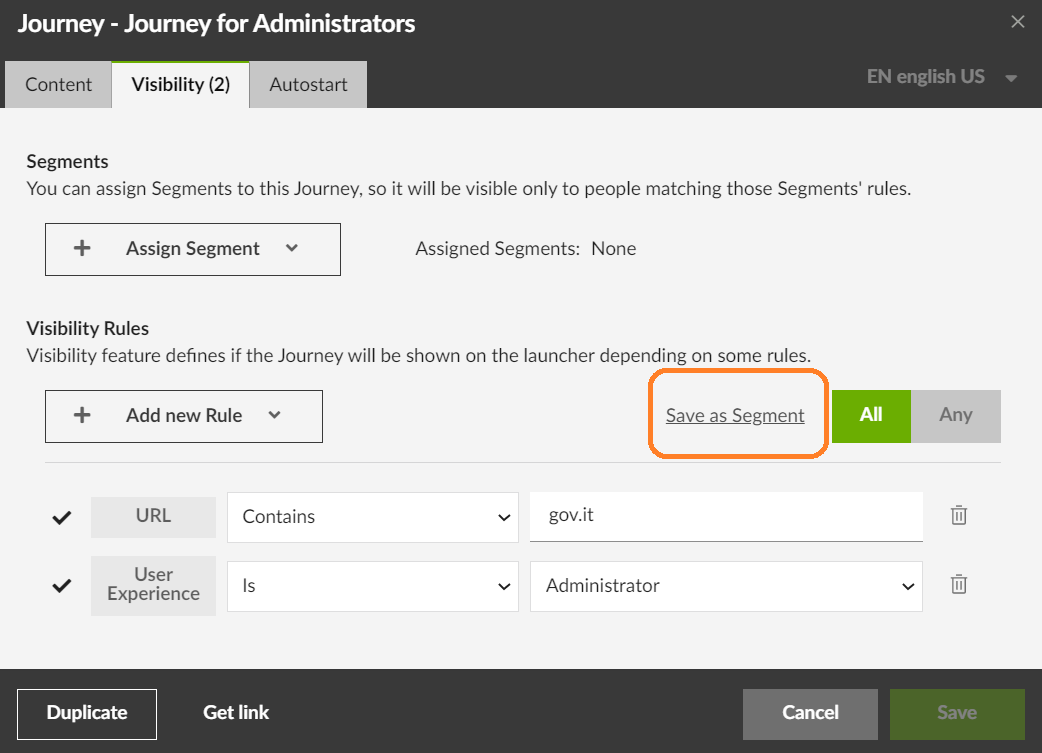 Then you are navigated directly to the Segment Editor and you can see the new saved Segment with prefilled rules specified before in the Journey/Tip Edit dialog and you can edit the Segment name and description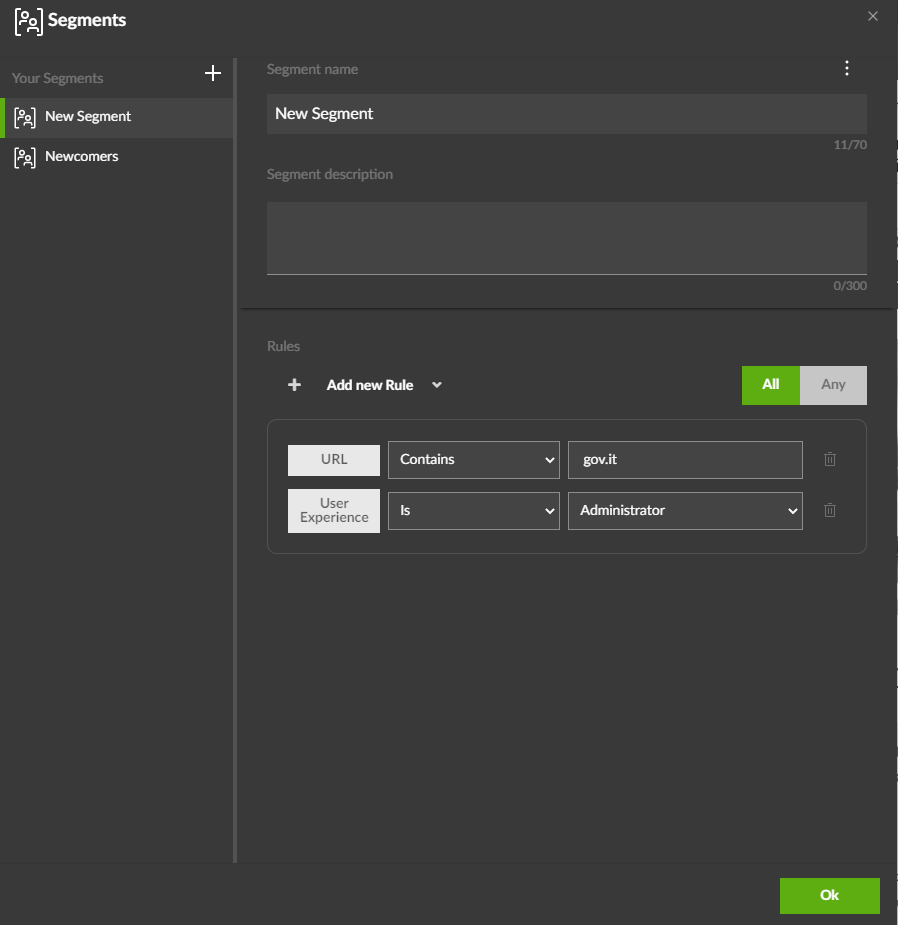 How to apply Segments
Assigned Segments
Segment without rules
Segments which have only name (and description eventually) and no rules specified can be assigned to a Journey (or a Tip) without any impact on its visibility. It can be used in order to divide or sort the content (for example based on the roles of users). Such kind of sorting is very useful in Analytics where the reporting data can be filtered based on selected Segments.


Segment with specified rules
If there are some rules included in the Segment, such rules will have an impact on the visibility of a Journey (Tip) having that specific Segment assigned (the same way as Visibility rules are applied).

How to assign a Segment to a Journey
In the Journey Edit dialog under the Visibility tab, click the "+ Assign Segment" button. The dropdown menu appears and you can select from the list of available Segments: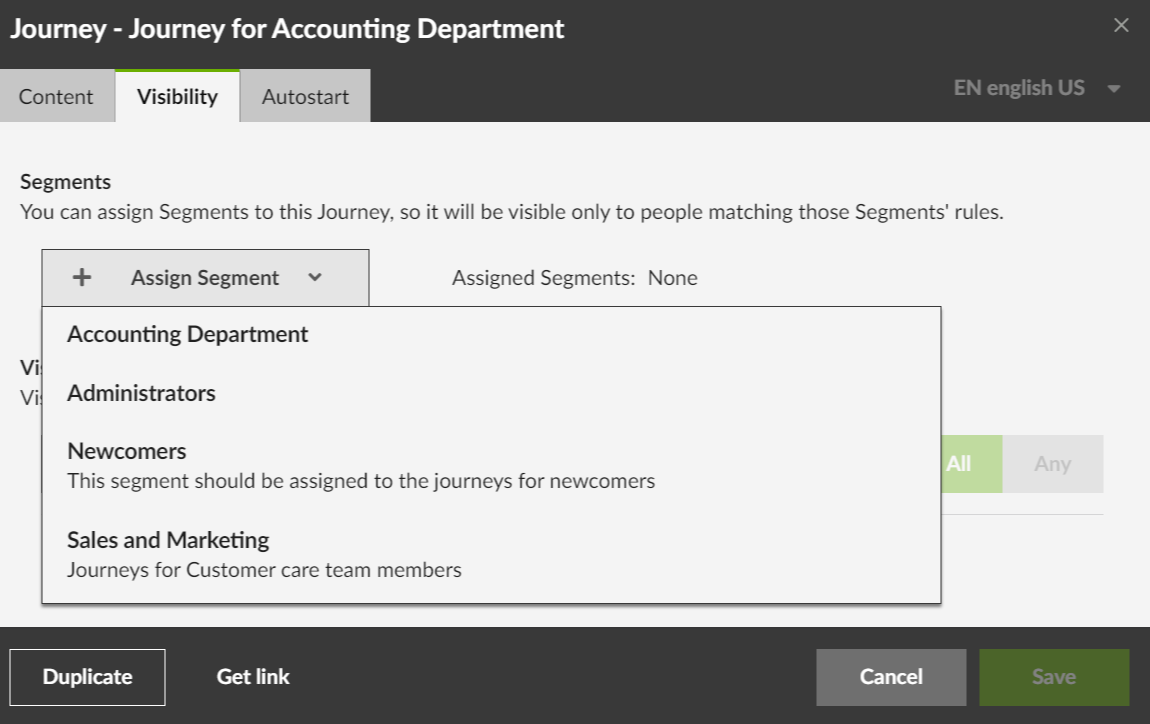 Once you select the specific Segment, it appears in the Assigned segments section: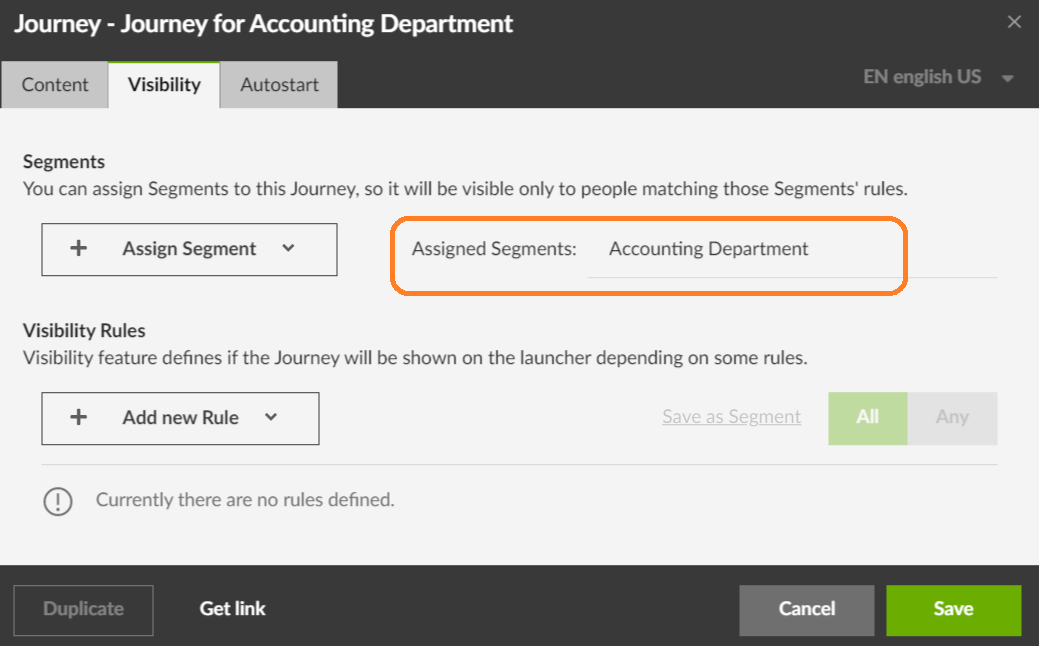 You can continue assigning more Segments to the Journey (Using the same way, Segments can be assigned to the Tips).
In case that multiple Segments are assigned to the Journey, "or" operator is applied then. It means that the user needs to match at least one of the Segments.
If you want to unassign Segment, you can click the cross button and it will get removed from the list of Assigned Segments for that specific journey: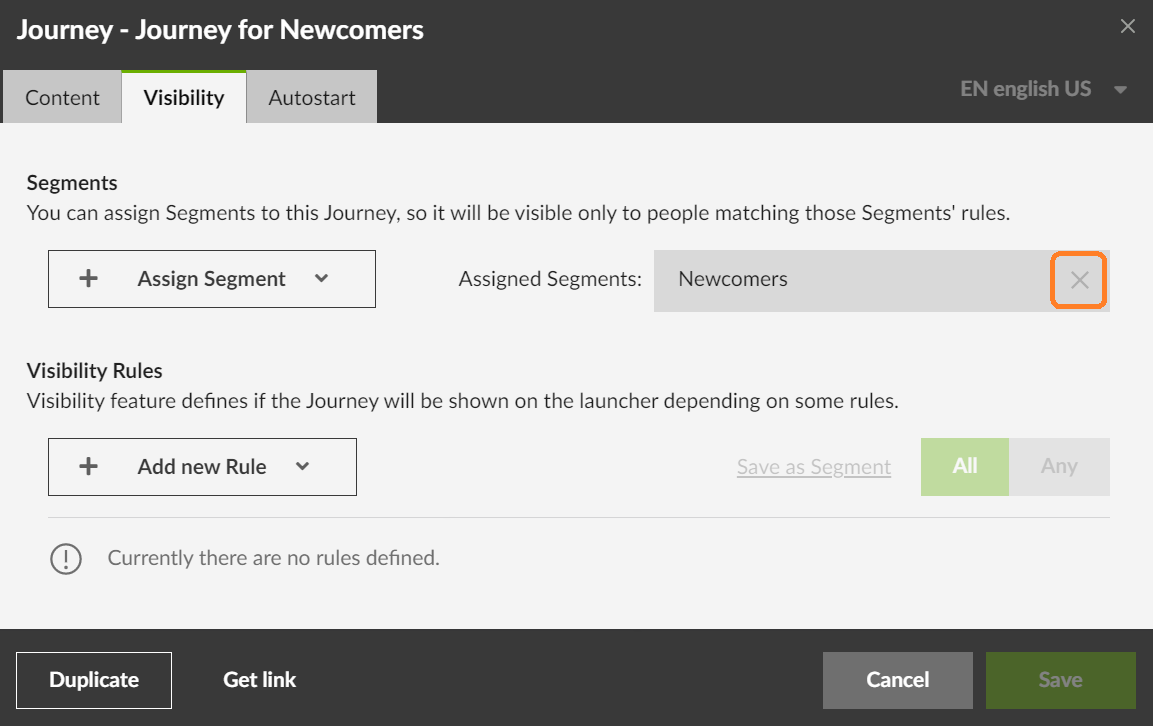 Chris DEWIPPE
Head of Customer Success, Newired
chris.dewippe@newired.com
---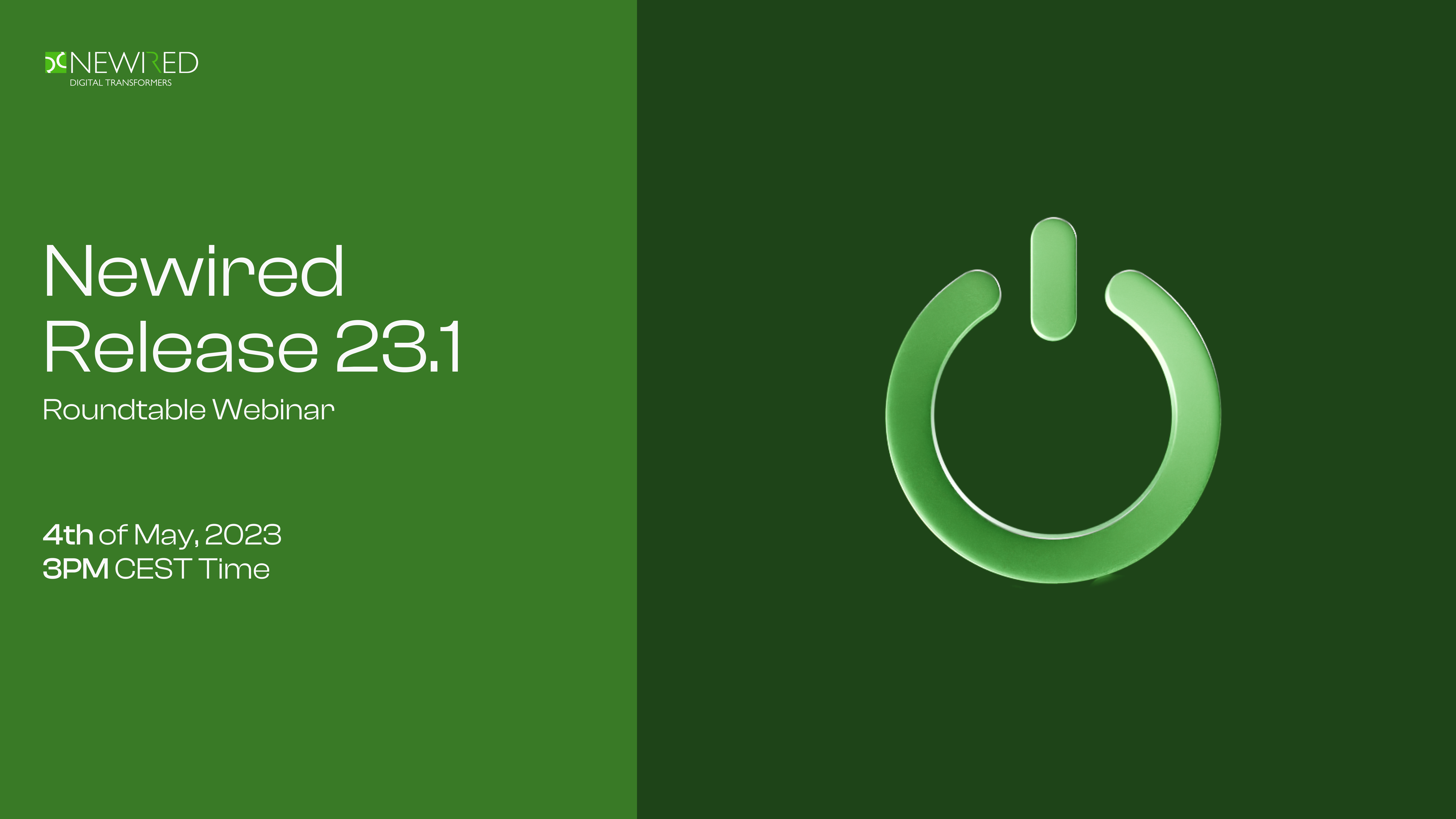 May 4th 2023 @3PM CEST 
Exclusive Roundtable Webinar: New Release Newired 23.1
Newired 23.1 is a significant release that brings valuable New Features and Improvements to help you with your Digital Adoption Journey. 
Here's a rundown of what's new:
User Segmentation

Custom Property Initialization

Quick Preview
Whether you need to target different user groups, customize the user experience, preview changes in real-time, or make quick changes to journey links, we've got you covered: join this webinar to learn more!
---