Unveiling Newired 23.3: Enhanced Journeys, Flexible Analytics, and Improved Page Tracking
We are thrilled to introduce Newired 23.3, the latest release that brings a host of exciting features to enrich your digital experience. With enhancements in journey flexibility, improved analytics and Page Tracking, and increased user control, this release empowers businesses to provide an even more tailored and data-driven user experience. In this article, we will explore the key highlights of Newired 23.3 and how they can elevate your organization's digital strategy.
Intermediate starting points for Journeys
In Newired 23.3, editors gain a powerful capability to set starting points in the middle of a Journey. This new feature allows end users to start playing a Journey not just from the beginning but from a specific step. This new level of flexibility speeds up the process by enabling your users to dive directly into the part of the application where they need guidance: Newired will directly redirect their browsers to the desired page with just one click.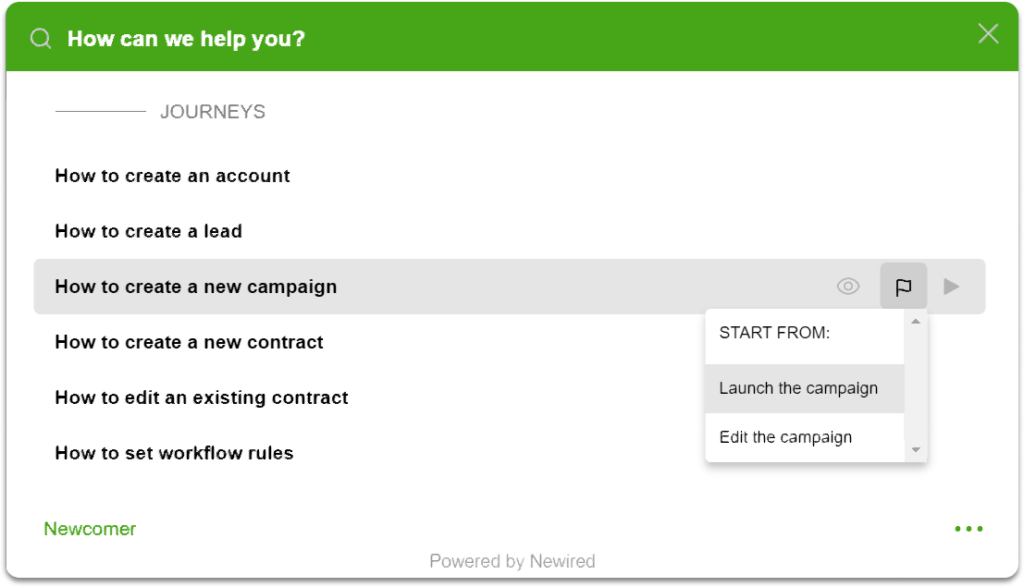 Segments Multi-Selection in Analytics
Newired 23.3 introduces the ability for users to select more than one segment in analytics. This feature enables you to create highly flexible user groups, making it easier than ever to filter and analyze data. Whether you want to analyze the behavior of multiple user segments simultaneously or compare the performance of different user groups, this enhancement provides you with the power to derive deeper insights from your data.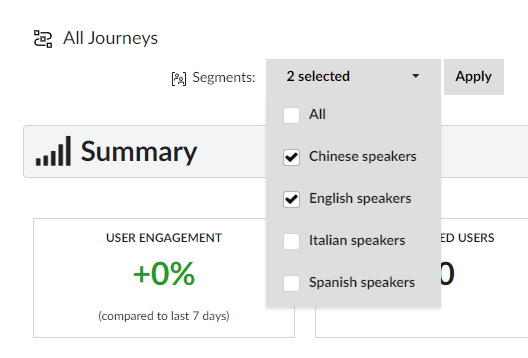 Enhanced Page Views Analytics
In the previous release, we just introduced Page Views Analytics. With Newired 23.3, we are enhancing this feature with a primary focus on improving its user experience. We're implementing a customizable "Favorites" section within the analytics interface. Users will now have the ability to track data from a custom set of URLs, ensuring that the most critical information is always easily accessible at the top of the page. This enhancement streamlines data access, making it more efficient and user-centric.

On/Off Switcher for Page Tracking Feature: Flexibility and Control
Newired 23.3 brings flexibility to Page Tracking by introducing an on/off switch in the admin panel. Now, administrators have the power to enable or disable the Page Tracking feature as needed. This is just the beginning of our commitment to make it more adaptable for complex target applications. Expect even more enhancements in the next releases to further customize and tailor Page Tracking to your specific requirements.

Support for Windows Server 2019 and 2022
Newired 23.3 now offers full support for Windows Server 2019 and 2022.
Please note that we will discontinue support for Windows Server 2016 in one year. This ensures that our platform remains current and aligned with the latest technologies.
We encourage users to contact us in case of any difficulties or questions regarding these platform updates. Your satisfaction and smooth operation are our top priorities.
Conclusion
Newired 23.3 is a significant step forward in enhancing digital experience platforms. With features like starting journeys from the middle, multi-selection for segments in analytics, improved page views analytics, and an on/off switch for Page Tracking, this release empowers organizations to provide a more customized, data-driven, and user-friendly experience. Stay ahead of the curve by leveraging the power of Newired's latest release to create exceptional user journeys and gain valuable insights into user behavior.
To learn more about Newired 23.3 and its groundbreaking features, visit our website and explore the release notes. Elevate your digital experience with Newired, and unlock the potential to deliver outstanding onboarding experiences while staying adaptable and responsive to user needs.