Written by Frank Schroeder, Natalia Kawana and Stefano Rizzo
Are you a software vendor for web applications, platforms and portals? Would you like to have your customers started fast and easily with your software?
You can have all of this embedded in your solution now!
As traditional training and PDF materials are more and more obsolete, in-app guidance overlays are gaining more and more momentum. Whoever is acquainted with this kind of platform now knows that in-app resources are much more appealing to users than all the other methods mentioned. Not only for companies who want to deliver a better user-experience to their employees, but also for technology providers who want to enhance their solutions and provide a better experience to their customers – or even, their customer's customers.
At Newired, we are very keen to turn software into a better resource for users. As part of our vision, we want to promote our solution among software vendors, so that they can already offer their solution with in-app guidance in place, improving the usability of their own applications and the experience provided to their customers.
For this to happen, we propose a partnership agreement with Newired: the OEM agreement. Any software vendor who wishes to offer their solutions with a Newired layer to their own customers (OEM users) can become a Newired's OEM partner.
With this agreement, you will have access to specific OEM licenses at compelling prices. These OEM licenses will be personalized and may differ from partner to partner, depending on their business model and needs. The OEM can be branded (the Newired logo is shown to OEM Users) or white-label (the Newired logo is not visible to OEM Users).
---
Why should you consider an OEM partnership with Newired?
In-app guidance can bring many benefits to you, software vendors. It's cool, it makes you competitive (many of your competitors might already have adopted this) and it makes customer support much easier. If you want to benefit from this technology, you have two options: to develop the overlay yourselves or to rely on a third-party, a Digital Adoption Solution (DAS) or Platform (DAP) for this.
Developing my own onboarding/ training feature to add to your application
Yes, if your have your own software development team, it's true that you can potentially develop an internal tool to create guidance overlays. But is this viable? More often than not, no.
Technology providers invest their resources and time into their own solutions, which are likely to be upgraded and maintained constantly, and thus are often not willing nor have the resources to add to this workload. Bearing this in mind, introducing other in-app features might become a second priority for them.
However, end user and customer satisfaction should be among your top priorities, if not the #1 priority itself.
Partnering with a DAS/ DAP
Considering the above, the most viable alternative for you, software vendors, in the mission of implementing a guidance overlay is to rely on a third-party who can offer a secure and accessible tool and will take care of its upgrades and maintenance. Newired is here for you! Are you aware of other solutions offering the same possibility and flexibility? We are not!
With Newired on your app, you can, apart from creating in-app guidance, have access to user analytics which will help you improve your own platform. Last but not least, Newired also offers you the secure option to host data on premise and a flexible pricing model, which will be adherent to your own pricing model.
---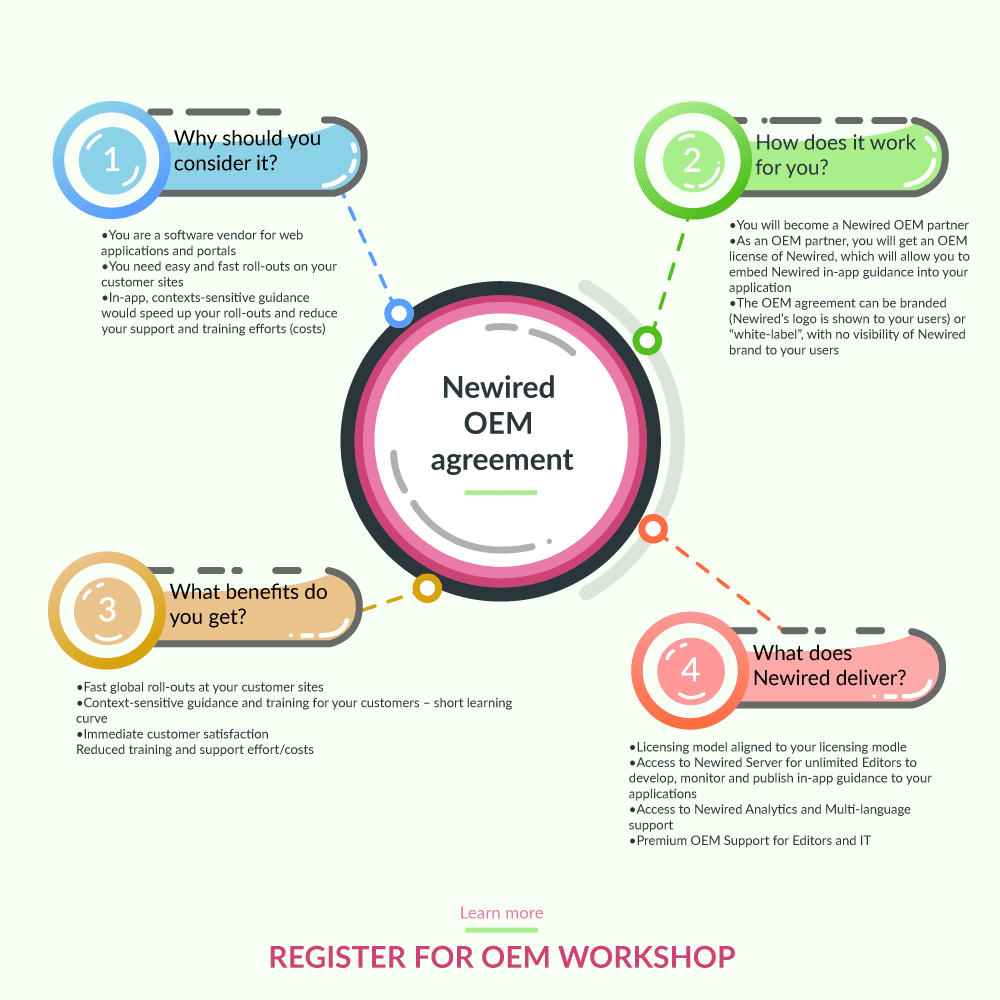 The OEM agreement
If you enter an OEM agreement with Newired, there will be some things that Newired will do for you and just a few that you will take care about to increase the competitiveness and easiness of your solution.
What Newired will do for you:
Provide a flexible licensing model aligned with your licensing model;
Let you choose if you prefer a Branded OEM possibility ("Powered by Newired") or a White label instance (where the Newired label does not appear);
Provide access to Newired Server and unlimited Editors to develop, monitor and deploy the content for OEM Users;
Provide access to your Editors and IT people to Newired Analytics, Multi-language and much more;
Premium OEM Newired Support for your Editors and IT people.
What you will do for your customers and users:
Create the content (journeys, Tips, Surveys…) that will guide your users through your application;
Add Newired launcher to your application to let your users access the brand new guidance. No worry, this can be done in multiple ways, 100% code free;
Support your users in case they have some issues with Newired
(if you wish) sell Newired to your customers, so you can eventually enable them to create and maintain the content on your products and access to Newired analytics
Adding a Newired layer will make your solution not only more up-to-date, but also more competitive and attractive to customers.
To learn more, we can offer you a 30-min online OEM Workshop, with the following content:
Overview Newired key features for in-app guidance
OEM License and Pricing Model
Q&A
Please schedule your OEM Workshop now: +39 338 3138502 or write an email to natalia.kawana@newired.com
---
Would you like to learn more?
We'll be glad to talk about an OEM Partnership with you!
[popup title="Register for OEM workshop" padding="10″ button="1″][contact-form-7 404 "Not Found"][/popup]