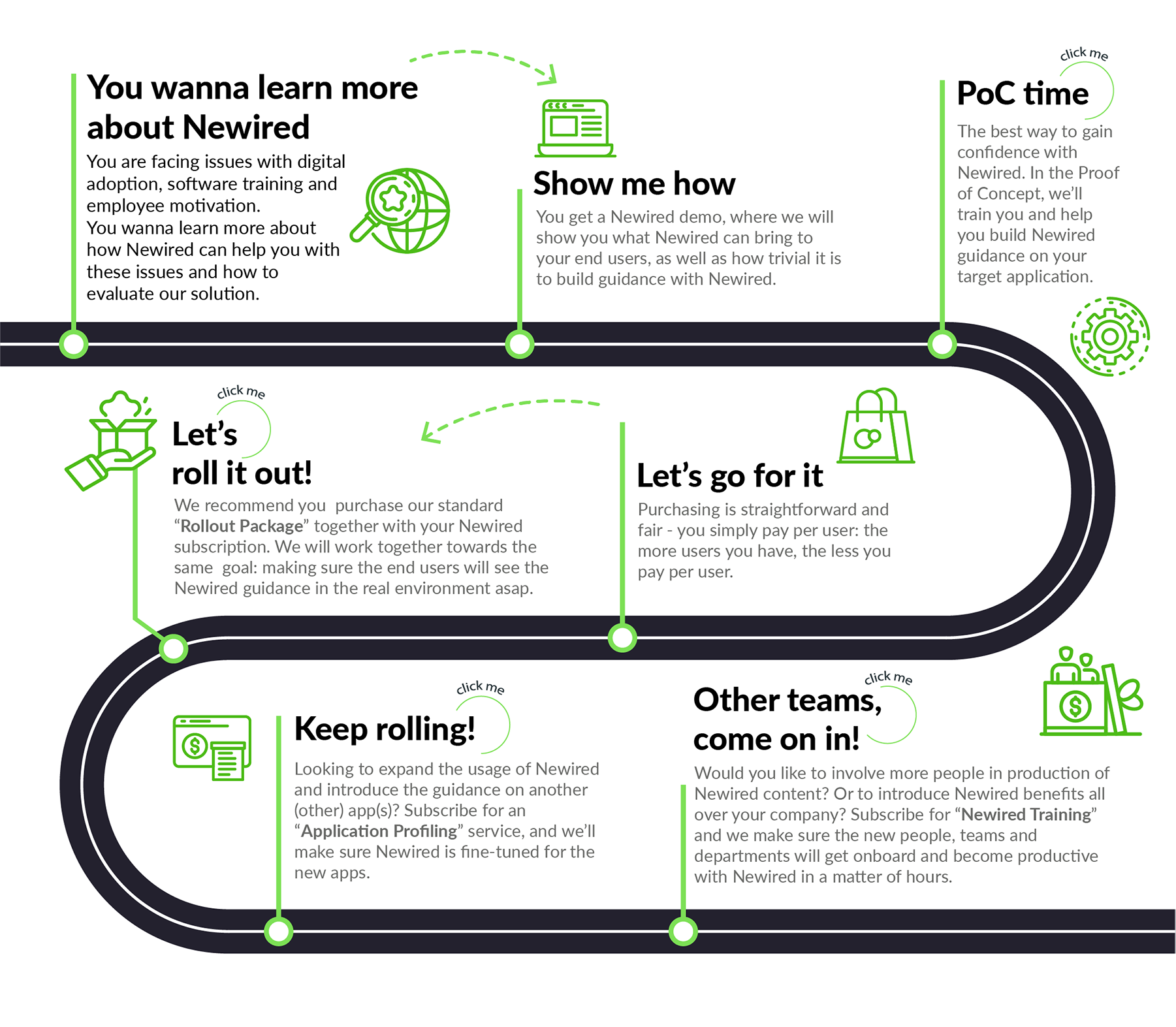 Proof of concept (PoC)
Newired provides full set-up of the product (Newired Editor and Newired Portal) to evaluate it in the team on specific customer target application
Delivery: Online Sessions (min. 1h), max. 4 attendees
Services: 10h

---
Pricing: €990/$1.240
---
Content:
Install Newired license on Online Demo Server (private & secure) or on premise at customer
Kick of session, define goals, objectives and PoC activity plan (1h)
Target Application Profiling (1h)
Overview Training on Newired
Journey creation by Newired and/or customer to achieve goal of the PoC (6)
Review meetings status and achievement (2h)
Preparation:
Installation via Online Demo Server (ODS) or On-premise
What is the target application we want to deploy within the PoC
What guidelines, Journeys should Newired/and or the customer wants to create – authoring team
Who is leading the PoC on the customer site?
Newired Rollout
The roll-out package is a complete set of tasks & services which guarantee a successful take-off and 'go-productive' with Newired user-guidance for customer web-applications and websites.
Delivery: Online Sessions (min. 1h), max. 6 attendees
Services: 40h

---
Pricing: €4.590/$5.740
---
Content:
Assistance with the definition of the project plan, set milestones and action items for the 'go-live'
Installing the Newired server on a cloud, tailored for your needs or helping customers IT-staff installing the server on-premise and setting the configurations
Target Application Profiling: We'll analyze your target application and work how to set up Newired's authoring environment for this application
Configure Newired algorithms for the new application
Journeys & Tips creation and design support i.e., hands-on training and help how to build the perfect user guidance
Newired Theme adjustments: we will fit the design of the Journeys & Tips to your target application and corporate design colors and fonts
Definition, guidance and configuration of test procedures for Newired Journeys before they go productive and live.
Final deployment strategy of Newired overlays and guidance - how to connect Newired guidance to your target application including processing of Security and Privacy requirements
Regular review sessions incl. final assessment of goals and achievements
Application Profiling
Review target application and work out guidelines how the set-up Journeys and tips to provide better usability and user satisfaction.
Delivery: Online Sessions (min. 1h), max. 4 attendees
Services: 8h

---
Pricing: €960/$1.200
---
Content:
Review target application
Review existing processes
Set-up guidelines for Journey creation incl. examples
Journey Creation Support
Create, and/or review and optimize existing Journeys/Tips for better productivity and quality.
Delivery: Online Sessions (min. 1h), max. 4 attendees
Services: 8h

---
Pricing: €960/$1.200
---
Content:
Create guidelines, Journeys based on customer requirements
Review existing Journeys, Tips
Taylor, optimize and extend existing Journeys for better workflow and customer satisfaction
Custom Style for Overlay and Guidance
Adopt customer corporate design and style compliance to Newired guidelines and Journeys.
Delivery: Online Sessions (min. 1h), max. 4 attendees
Services: 8h

---
Pricing: €960/$1.200
---
Content:
Overview and training on Newired "Themes" capabilities
Modify, adopt existing Newired Journeys based on customer design and style guidance
Provide customized style templates
New Release Package
This package for our "on-premise" customers provides update services for all 4 releases Newired delivers with in 12-16 month.
Delivery: Online Sessions (min. 1h), max. 4 attendees
Services: 8h

---
Pricing: €960/$1.200
---
Content:
Installation and customization of new release
Training and Best Practice of new functionality and use cases
Adoption of existing guidelines and Journey to the new release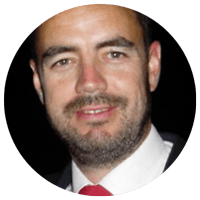 Joaquin Del Palacio Rodriguez
M10M
---
In the case of Newired, we have undoubtedly found the best solution to add value to our clients in the process of improving the user's experience. They have an innovative, practical, user-friendly and technologically proven solution in several sectors.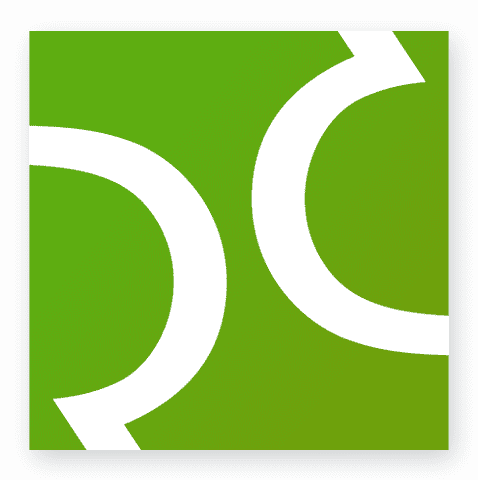 Contact our Customer Service
Do you have any questions? Would you like to learn more about our customer success services? Would you like to request services?
Schedule a 15-minute call with our Customer Success manager.
Simply pick a slot on the calendar and be ready to rock!